Ricotta Cream Zucchini Bigoli
Deliciously creamy, full of summer zucchini, ready to eat in less than 20 minutes: what more can you ask for?!
We eat this weekly once our farm zucchini starts poppin'. We love it with pasta, spread onto toast or a sandwich, or as a flatbread! Or we simply eat it straight too.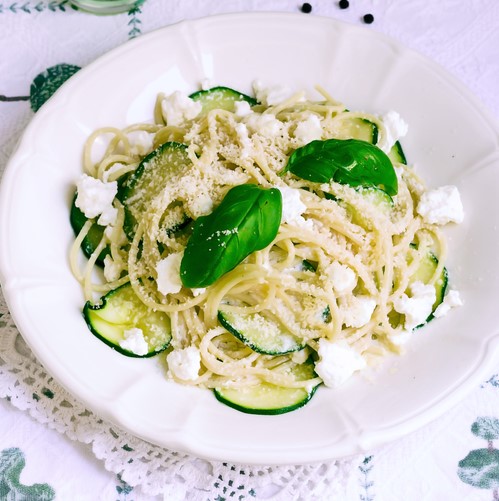 We love noodles twirled with ricotta and zucchini in every bite. Bucatini, Bigoli, Spaghettini and Linguine Pasta are some of our pastas that would shine in this recipe. We also love this dish with Gigli, Radiatori, Gramigna and Lumache.
Ready to serve in: 20 minutes Active time: 20 minutes Serves: 4 adults
Ingredients
2 medium Zucchini, quartered and chopped
2 Shallots, sliced

3 cloves of Garlic, minced

1 tbsp Extra Virgin Olive Oil
1.5 cups of Ricotta Cheese
2 Lemons, zested, juice of 1

4 nests or 13.7 oz of Pasta

3 springs of Herbs of choice (basil, chives, oregano, parsley, scallions).

Chili Flakes

Salt

Black pepper
Method
Quarter your zucchini lengthwise and slice into thin slices about 1/4 in or thinner. Set aside.
Slice your shallots thinly and finely mince or grate the garlic. Set aside.
Bring a large pot, filled 3/4 of the way with water to a boil. Season with salt generously. Cook your pasta to al dente, following the recommended cooking time. Drain the pasta, reserving 1 cup of pasta water. Toss the pasta with 1 tbsp of EVOO.

Sauté in a large shallow pan over medium high heat, the zucchini with pinch of salt and black pepper until golden brown. Stir occasionally, about 3-5 minutes. Turn heat to medium low add onions and garlic, sauté until translucent, about 2 minutes.

Add the cooked pasta, about 1/2 a cup of pasta water, the ricotta and lemon zest.

Cook together until emulsified and thickened, about 5-7 minutes.

Add lemon juice, salt and chili flakes to taste.

Fold in chopped herbs of choice (Basil, Chives, Oregano, Parsley etc.).

Buon Appetito!