Pork alla Milanese with Braised Greens, Roasted Potatoes & "Salsa Verde"
Showstopping AND easy. Whether you're looking for a meal to impress your date or hosting family this recipe will satisfy everyone and give you time to enjoy your guests instead of slaving away in the kitchen!
This recipe utilized my favorite way to cook pork chops - in the oven! There is nothing easier than throwing a pork chop into a preheated skillet in the oven, setting a timer and getting back to enjoying your guests. We also love how evenly in color and cook this method treats the pork chop. We recommend looking for pork chops that have lovely marbling and a nice fat cap. Our favorite pork farm is Perrin Farms in Montpelier VT.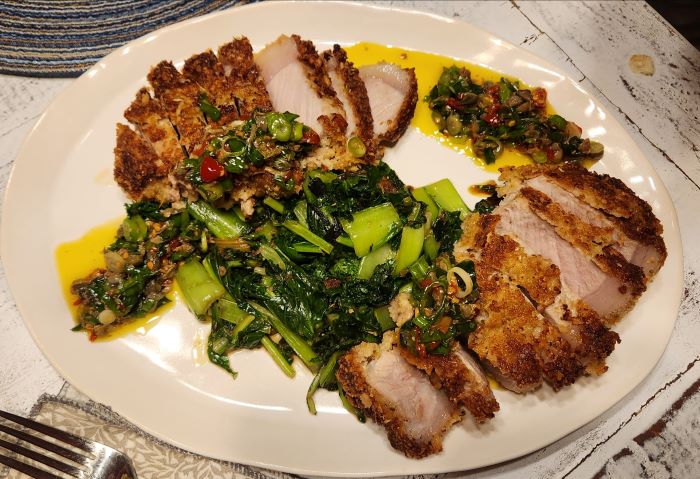 This recipe feeds 2-4 because it is so delicious, it's hard to stop eating it. We made this recipe for dinner a couple nights ago and typically 1 pork chop with potatoes, veggies and salsa verde is plenty for the 2 of us. Last time we made it we did 2 pork chops for 2 and we were too full afterwards but it was worth it, it could have absolutely feed 4.
Ready to serve in: 1 - 1.25 hours Active time: about 30 minutes Serves: 2-4 adults
Ingredients
2 ea Boneless Pork Chops
1 bag (about 1 #) Braising Greens Mix
2 pounds Yukon Gold Potatoes
3 tbsp "Profumo del Vermont - Italian seasoning blend
1 cup Breadcrumbs (We love using stale crackers)
2 cloves, Garlic peeled
1 cup Parmigiano Reggiano, grated
1-2 tbsp Capers
1 bunch Scallions
2 ea Lemons
1/2 cup Avocado Oil, or Vegetable oil (split use)
1/4 cup EVOO, finishing style
2 ea Eggs
Kosher Salt
Method
Pork Milanese:
Season the pork chops with 1 tsp of Profumo del Vermont and allow to "marinate" 1 hour or up to overnight.

Make the "Salsa Verde": In a small bowl combine ¼ c of good finishing EVOO, chopped capers and sliced scallions.

Set up a "breading station: In 1 flat bowl combine breadcrumbs, grated parmigiano reggiano and 1 tsp of Profumo del Vermont. Mix to combine. In a 2nd flat bowl crack 2 eggs plus 2 tbsp of water and whisk together well.

Bread the pork chops starting egg mixture then into the crumb mix then back into the egg mixture then finishing into crumb.

Preheat the oven to 475* F and place a cast iron skillet or heavy bottoms statue pan into the oven to preheat.

Once preheated turn the over down to 425* F. In the preheated skillet add 1 tbsp of vegetable oil and place the chops into the pan.

Bake the pork chops: Place the skillet with chops back into the 425*F oven and bake for 7-8 minutes (until golden brown on the bottom). Flip the chops and bake an additional 7-8 minutes until golden.

Remove from the oven and place the chops on a cutting board to rest.

Sauté the Braising Greens: Into the hot skillet add the chopped braising greens and grated 2 cloves of garlic. Sautee on medium heat until tender, about 3 minutes. Season with lemon zest and Profumo del Vermont to taste.

Slice the pork chops and serve! Buon Appetito!
Roasted Potatoes:
Preheat oven to 375*F

Peel and cut potatoes into 1 ½ - 2 inch pieces.

Place in a pot filled with water. Add salt to season and bring to a low simmer. Allow to simmer until al dente, about 15 minutes.

Drain onto a lined sheet tray. Toss with 2 tbsp of profumo del vermont seasoning mix and ¼ cup of vegetable oil of choice.

Bake until golden brown, stirring occasionally. About an hour of roasting time.