Saffron Scented Orzo Risotto with Shrimp Recipe
This dish looks more difficult than it is. It is actually a pretty quick meal but everyone will be blow away. We love cooking orzo like risotto because not only does it create a rich and creamy sauce but the texture of the orzo really holds up to this cooking method. Best part, its a 1 pot meal! You can use dried orzo for this dish as well, you may just need to add up to 1/2 cup more broth and an additional 5 minutes of cook time. 
Saffron Scented Orzo Risotto with Shrimp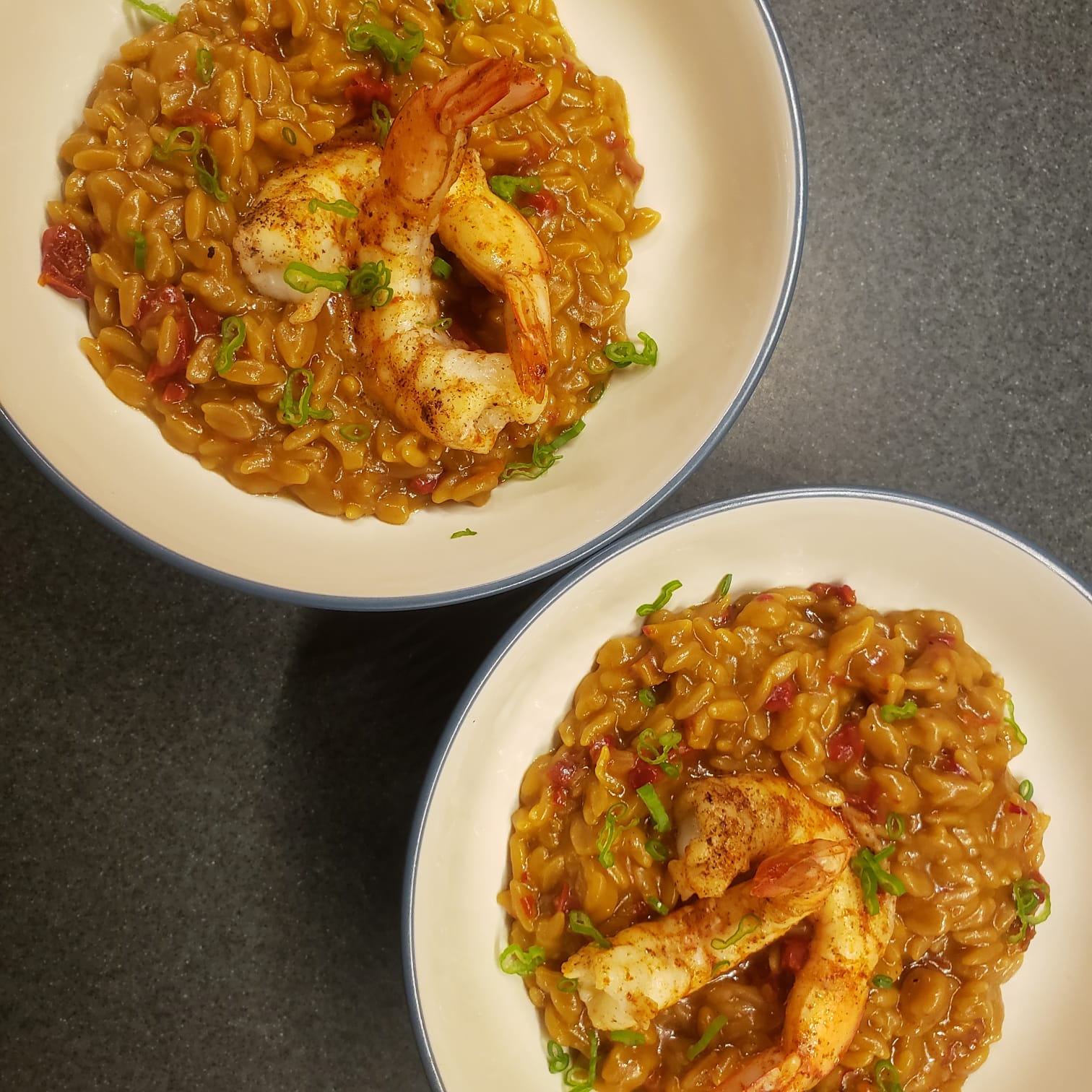 Fresh or Frozen Orzo may clump. This is normal. When you add the orzo at the beginning, do your best to crumble it into as small of pieces as possible. You can also gently soak the frozen orzo in cool water to seperate them about 5 minutes, just make sure to drain it well before cooking. As you cook the orzo in the broth stir the orzo and try to break up any clumps. The longer the orzo cooks the easier this becomes.
Ready to serve in: 40 minutes Active time: 30 minutes Serves: 4 adults
Ingredients
1 pound of Orzo
12 Shrimp, peeled and devined, cut into 3 or 4 pieces
3 tbsp of EVO
1 cup dry white wine
6 cups of Broth or Brodo, warm
20 strands of Saffron, optional
1 Yellow Onion or 2 Shallots, minced
2 cloves of Garlic, minced
10 Sundried Tomatoes, diced small
1 oz of Butter
1/4 cup of Parmessan Cheese, grated
1 bunch of Chives or Scallions
4 tsp of Salt, to taste
2 tsp of Paprika
1 Lemon
Method
Marinate the Shrimp: Cut the peeled and deveined shrimp into bite sized pieces, about 3-4 per shrimp. Toss the shrimp with lemon zest, 1 tsp of paprika and 1 tsp of salt. Allow to marinate atleast 15 minutes.
Make the Risotto: In a large sautepan with straight sides add 3 tbsp of oil and bring the heat to medium. Saute the finely minced sundried tomatoes, onions and garlic with a large pinch of salt until translucent and soft about 6 minutes, stirring occasionally with a wooden spoon. Add the saffron, if using, and saute until become slightly fragrant, about 2 minutes. Add the orzo (if using fresh orzo crumble it as best as possible) and stir until each grain of orzo is hot to the touch about 5 minutes. Some of the orzo may clump, this is okay, break up what you can with a spoon but as it cooks they will become easier to seperate. Deglaze the orzo with the white wine. Cook over medium low heat until almost dry. Then begin to add broth, 1 cup at a time. You want the broth to just barley cover the orzo, turn the heat to medium -low. Stir occasionally allowing the broth barley simmer and cook down until almost dry before adding another cup. Cook the orzo in broth until the orzo is almost tender, about 18 minutes. Add the marinated shrimp, turn the heat up to medium and continue to cook for another 3-5 minutes, just until the shrimp is cooked. At this point you want 90% of the broth to be absorbed by the orzo. Turn off the heat and stir in butter, parmessan cheese, salt (to taste), a squeeze of lemon and paprika. Garnish with chopped chives and additional parmessan cheese.
Buon Appetito
Recipe Notes:
Recommened Wine Pairing: Look for a Pinot Grigio from Alto Adige or Falenghina from Campagnia.