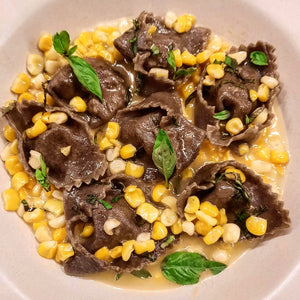 SOLD OUT
Sold in 12 oz containers. 12 oz feeds about 2-3 adults. Frozen

Tortelloni, lovely large stuffed pasta from Northern Italy are back this week and its one of our most requested flavors! Our traditional egg sfoglia dough is a lovely light purple from locally grown blueberry puree. This delicious and slightly fruity dough is filled with farm grown and then roasted sweet corn and a touch of hot peppers blended with farm herbs, Mascarpone cheese . A touch of lemon brings this fall tortelloni together! Try it simply in some browned butter and frozen corn! 
Ingredients: Lasagna Sfoglia Verdi (wheat & spelt flours, eggs, blueberry puree) Corn Filling (Mascarpone Cheese, Corn, Hot Peppers, Chives Olive Oil, Salt, Lemon)
Contains: Wheat, Eggs, Dairy
Try some of our favorite pairings!