Available in 16 oz containers which are enough for a large lasagna or 2-3 pasta dinners for 4
Starting with Sweet Rowen Farmstead's cream top milk, our Besciamella is rich a silky. Our besciamella base is made with freshly cracked black pepper, a touch of nutmeg, and tons of 24 month aged Parmesan Cheese. We take it up a notch by adding roasted garlic and farm grown herbs. This simple but delicious stop is an Italian tradition. Sometimes called salsa bianca this sauce was the favorite of Catherine d'Medici. 

Layer it between lasagna sheets, roll rosette, dress some tonnarelli, or bake the tortelloni in our besciamella for a show stopping meal everyone will ask for again. 
Ingredients: Whole Milk, Roasted Garlic (Garlic, Organic Spanish Olive Oil, Salt) Organic Olive Oil, Parmesan Cheese, Whole Wheat Flour, Butter, Chives, Parsley, Thyme, Oregano, Basil, Lemon, Black Pepper, Nutmeg, Salt. 
Try some of our favorite pairings!
Lasagna Verdi in Creamy Besciamella all'Aglio Arrosto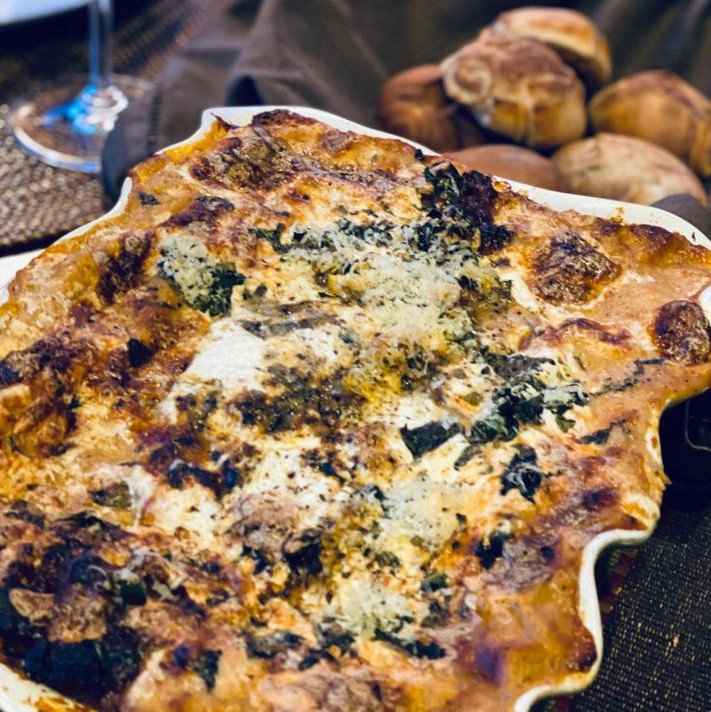 This recipe was Giacomo's grandmother's and was the first dish Giacomo ever cooked for me (Jenny).
Ready to serve in: 1 hour and 45 minutes Active time: 1 hour Serves: 6-8 Adults
Ingredients
1 lb of Lasagna Sheets, fresh, about 10-12 sheets
16 oz of Besciamella all'Aglio Arrosto
1 cup of Parmigiano Reggiano
1 cup of Mozzerella Cheese, grated
Black Pepper, to taste
1 bunch of Fresh Italian Herbs, chopped
Olive oil, (to keep lasagna sheets from sticking or drying out after cooking)
Greens & Ricotta Filling Ingredients
2 large bunches of Greens (Spinach, Swiss Chard, Kale in any combination)
2 tbsp of Vegetable oil
1 Yellow Onion, diced small
4 large cloves of Garlic, minced
¼ cup of Extra Virgin Olive Oil
3 sprigs of Rosemary, chopped
1 bunch of Basil, chopped
2 large sprigs of Sage, chopped
½ bunch of Oregano, chopped
32 oz Ricotta Cheese
1 ½ c Mozzarella Cheese or Parmigiano Reggiano
2 Eggs
Black Pepper to taste
Salt to taste
1 Lemon zested
2-4 dashes, Sherry Vinegar (optional)
Method
Greens & Ricotta Filling
Clean the greens and slice into 1 in strips.
Dice onions, mince garlic, and chop herbs. Set aside and keep herbs separate from onions and garlic.
In a large heavy bottom saute pan. Saute the greens over medium heat with vegetable oil until tender. Set aside, spread into a thin layer, to cool.
Over low heat add olive oil, onions, and garlic to the pan. Saute until translucent, about 5-7 minutes stirring occasionally. Add chopped herbs and remove from pan.Set aside.
In a food processor, combine cooled greens and the onion mixture. Pulse about 8-12 times until the mixture is chopped. Add ricotta, mozzarella and eggs. Blend until combined well. Season with black pepper, salt, lemon zest and sherry vinegar.
Allow to firm up in the fridge for at least 20 minutes before using.
Make the Lasagna:
In a large stock pot bring water to a boil and salt for pasta. Set up a shocking station for the pasta to stop it cooking. Fill a large bowl with ice water.
Blanch the pasta sheets until they are tender but still al dente, about 2 minutes for fresh pasta. Shock and drain immediately.
Remove from the ice water and place in a single layer on towels or plastic wrap sprayed with oil.
Build the Lasagna:
This step is easiest when all the components are cool or room temperature.
Start with a thin layer of olive oil then add a layer of bechamel to coat the bottom of the dish.
Add a layer of pasta, then about 1 cup of greens & ricotta mixture and spread it evenly over the pasta. Top with a layer of pasta and then bechamel. Repeat this at least 2 more times but make the last layer of bechamel at least ½ in thick .
Top with fresh herbs, grated mozzarella and parmesan cheese.
Cover with foil and bake at 425*F for 20 minutes. Uncover and continue to bake until the top is golden brown, about 25 minutes.
Allow to rest for at least 10 minutes. Slice and serve.
Recipe Notes:
This recipe is very versitle. Switch up the vegetable in the filling! We love subsituting the greens for crushed or sundried tomatoes, as well as roasted mushrooms!
Suggested Wine Pairing: Nothings like lambrusco and lasagna. "Giano", Lambrusco Montavano, Fondo Bozzole, Emilia- Romagna. This lambrusco is always stocked in our cellar thanks to our friends at Dedalus Wine Shop for turning us onto it. You can find this bottle at their shops. This rich, creamy bottle is made from Salamino grape. It is a dry sparkling wine with jammy red tart fruits, black cherry, orange and fennel spices as well as a touch of animalistic salumi. This bottle always disappears too fast. We love how the bright acidity of this bottle pairs with the earthy mushroom. The nutmeg in the béchamel allows the spices of this bottle to shine