Sold in 32oz containers. About 4 cups
Organic vegetables and Parmesan rinds take this pantry staple to a whole new level. Roasted seasonal vegetables, farm grown herbs and spices are simmered low and slow together with Parmesan rinds from 24 month aged Parmigiano Reggiano. Packed with flavor this broth will make your next Risotto, Minestrone, and Cappelletti in Brodo warm you from the inside out.  
Ingredients: Onions, Carrots, Celeriac, Mushrooms, Parmesan Cheese Rinds, White Wine, Organic Olive Oil, Garlic, Black Peppercorns, Thyme, Rosemary, Bay Leaf, Salt, Lemon Juice.
Try some of our favorite pairings!
Minestrone Soup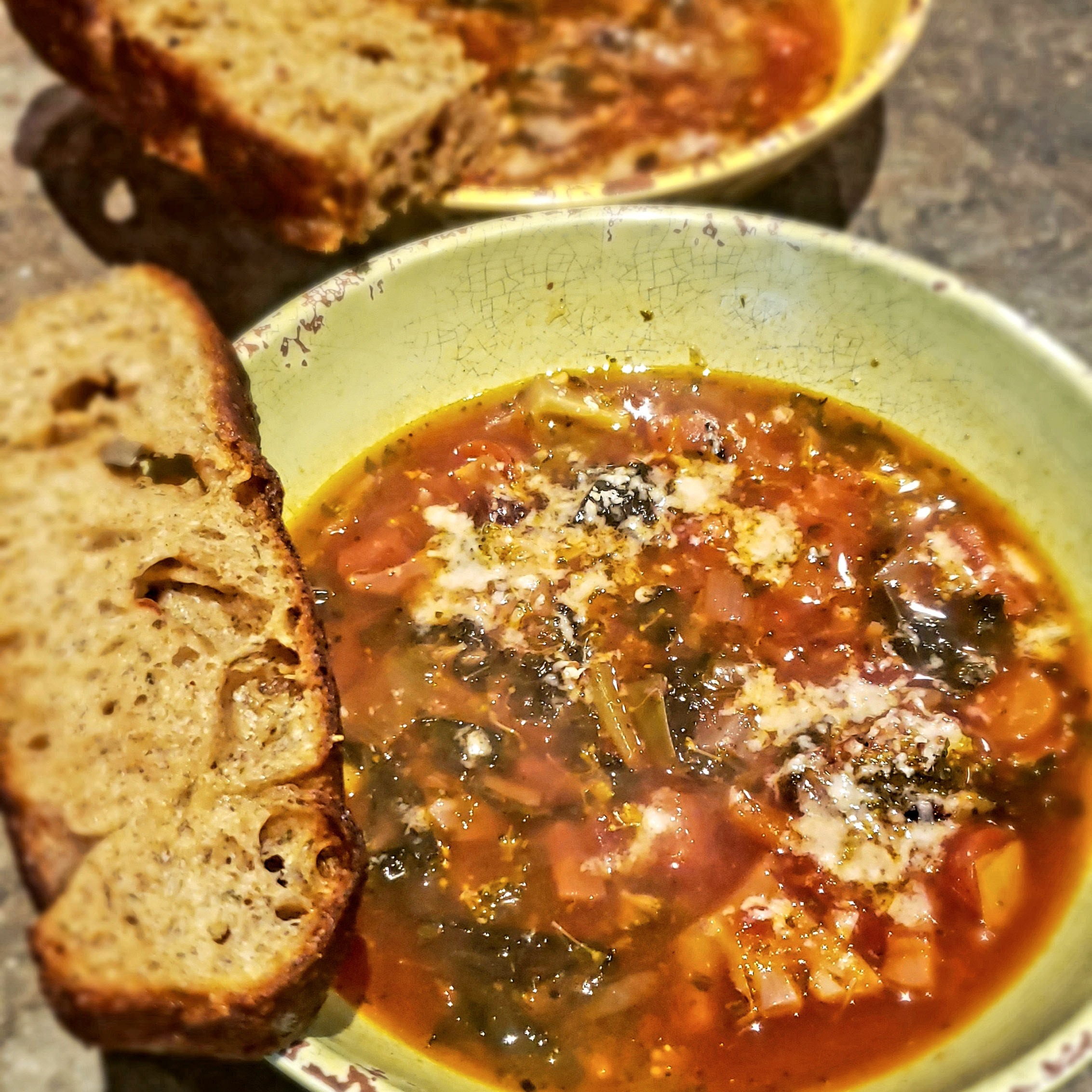 We love Minestrone Soup. While adding pasta is not necessary alittle bit of Gnocchetti Sardi is so delicious in the soup. Also this recipe is very versitle depending on the season. This is a more fall vegetable (winter squash and kale) driven recipe.
In the spring we make this minestrone with peas, green beans and kolhrabi.
In the summer we add extra cherry tomatoes, roasted eggplant, and roasted peppers to this soup. The pastabilities are endless!
Ready to serve in: 45 minutes Active time: 30 minutes Serves: 4 Adults
Ingredients
1 quart Vegetable and Parmesan Brodo (Broth)1 28-oz. can
Whole Peeled Tomatoes or Fresh Tomatoes chopped
1/2 pound of Gnocchetti Sardi pasta or other small shape
2 tbsp olive oil
Freshly ground black pepper
Salt
Chili Flake (optional)
6 oz Pancetta, diced (optional)
2 oz Tomato Paste
12 ounces Butternut Squash, peeled, cut into ½" pieces
½ bunch Tuscan kale, ribs and stems removed, leaves torn into 1" pieces
4 rainbow Carrots, scrubbed and cut into 1/2" pieces
1 Leek, sliced into rings
1 clove Garlic, minced
4 oz Kale & Sage Pesto, to serve
Parmesan Cheese for garnish
Focaccia Bread for dipping (optional)
Method
Heat the oil over medium heat. Add pancetta, if using, and saute until crispy. Add leeks, garlic and carrots. Add a generous pinch of salt, fresh black pepper and chili flake if using. Saute until onions and garlic are tender.
Add tomato paste and cook over medium heat until the fragrant and slightly darker in color, about 3 minutes.
Add chopped tomatoes and brodo (broth). Bring to a low simmer.
Add Kale and Squash and simmer until tender, about 15-20 minutes.
Season the soup with lemon juice and additional salt as desired. Add gnocchetti sardi and bring to a gentle simmer. Cook until the pasta is al dente, about 5-7 minutes (check with your pastaio's suggested cooking time).
To serve: top each bowl of soup with a generous spoonful of pesto and swirl. Garnish with additional parmesan and focaccia! Buon Appetito.