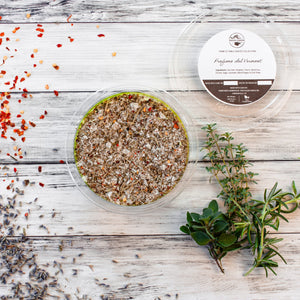 Sold in 8 oz containers (125 grams)
Our signature spice rub! Giacomo and Jenny met in Tuscany while learning to butcher from Italian master Dario Cecchini. This spice rub is an ode to our time in Tuscany with Dario.
Filled with flaky sea salt, organic dried rosemary, oregano, lavender, thyme, and fennel, and sustainably sourced spices. This spice blend is perfect for roasted root veggies & potatoes, roasted chicken, grilled lamb, on top of home baked crackers, or simply add some to extra virgin olive oil and ciabatta in it! 
Try some of our favorite pairings!
Pollo Stufato - Italian Chicken in a Pot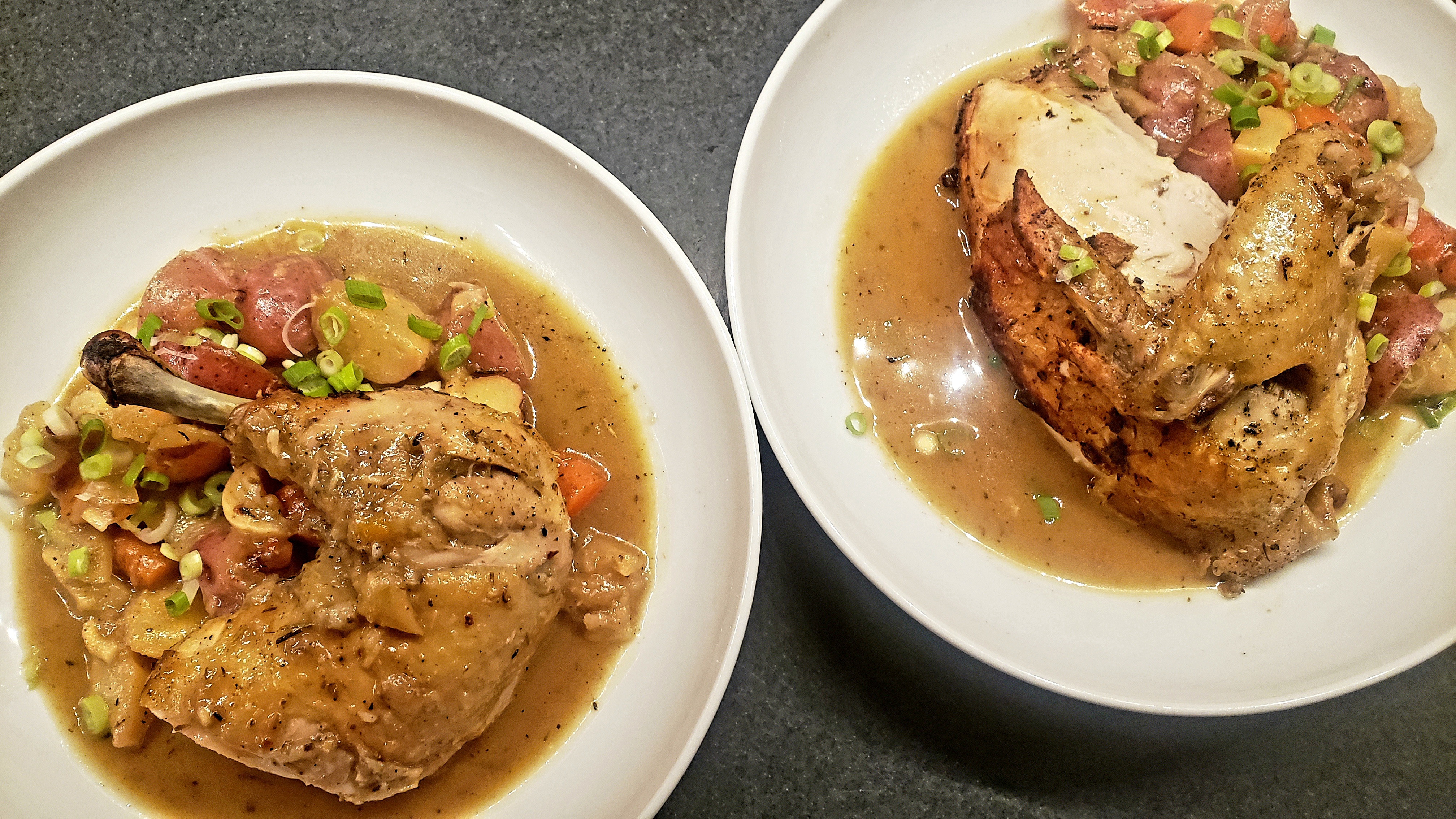 This dish is a staple in on our weeknight table. Not only is it simple and delicious but what is better than a 1 pot meal complete with veggies, poatoes, juicy chicken and sauce. This dish is also VERY customizable. IN the winter we cook this recipe as is with parsnips (or any root vegetable we have) and carrots. In the summer we love adding tomatoes and beans in place of parsnips and topping it off with fresh basil. In the spring kolrabi replaces the parsnips and peas get added right before the broil.
Ready to serve in: 1.5 hours Active time: 25-30 Minutes Serves: 4 Adults
Ingredients
1 whole chicken (about 4 pound bird)
3 1/4 tbsp profumo (split use)
3 tbsp vegetable oil
3 large carrots
1 parsnip
1 yellow onion
6 cloves of garlic
8-12 baby potatoes (red are our fav)
1/2 cup dry white wine
1 cup chicken or vegetable stock (if using store bought stock make sure its low sodium)
2 tsp tapioca starch or cornstarch
1 tbsp silver band aceto balsamico or sherry vinegar, to taste
1 bunch sliced chives or scallions
1 dutch oven or stove and oven safe casserole dish
Method
Prepare the Chicken and Veggies:
Pat the chicken dry and rub with 2 1/2 tbsp of Profumo del Vermont spice mix. (If not using profumo del vermont, use 1 1/2 tbsp of salt mixed with spices and black pepper) Allow to sit at room temperature for atleast 15 minutes.
Quarter or half the potatoes so they are between the size of a quarter and a half dollar. Set aside. Peel and cut carrots and parsnips into 1-2 inch pieces. Chop the onion into large pieces. Combine carrots, parsnips, peeled garlic and onions.
Preheat the oven to 375*F.
Sear it all:
Over med-high heat add vegetable oil to the dutch oven. (Make sure the cavety of the chicken is DRY before searing). Sear the chicken starting breast side down first, until golden brown about 5-7 minutes. Flip and repeat with the backside. Remove the chicken and set aside. Add the potatoes and sear until lightly golden brown on one side. Turn the heat down to medium and add the carrots, parsnips, garlic and onions. Stir and sweat until the mixture become arromatic, about 5 minutes.
Make it Saucy:
In a small bowl combine corn or tapioca starch with enough water (about 1-2 tbsp) so the mixture looks like heavy cream. Set aside.
To the sweated vegetables, add 3/4 tbsp of Profumo del vermont and then deglaze the pan with the white wine. MAke sure to scrap the bottom of the dutch oven with a wooden spoon to remove all the tasty carmelized bits. Reduce the wine by half. Add chicken stock and bring to a simmer. Add the cornstarch slurry mixture and stir until incorporated.
Roast it:
Return the chicken to the dutch oven by nestling it into the vegetable and sauce. Don't worry the sauce won't cover the chicken, it should just cover the vegetables on the bottom. Cover with the lid and roast in the oven at 375* for about 1 hour.
Finish and Serve:
Remove the lid of the dutch oven and broil the top on high heat for about 3-5 minutes, just to crispy and brown the skin further. Remove from the oven and allow to rest for 5-10 minutes. Remove the chicken and cut as desired. Season the sauce and vegetables with balsamic or sherry vinegar. Top with scallions or chives to serve!
BUON APPETITO!
Recipe Notes:
This recipe also works with different proteins! Try it by switching the whole chicken for a pork roast (add 2 apples to the vegetables). Depending on the size of the roast you may need to up the time in the oven. This recipe was written for a chicken between 4-5 pounds. For a 4-5 pound boneless pork roast the time will be between 45 minutes-1 hour 15 minutes.