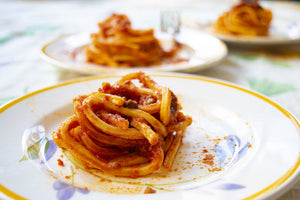 Sold in 12 oz Jars. Good for 1 pound of Pasta. 

Pasta alla Norma is a traditional dish from the coast of Sicilian in the city of Catania. Traditionally this dish features a tomato sauce with fried eggplant pieces topped with ricotta salata.  The history of this dish has 2 different stories. Our favorite is that this dish was named for the opening night of Vincenzo Bellini's Norma opera on December 26, 1831. 
We are excited to showcase our version of this dish in a complete sauce form. Our farm grown tomatoes are roasted in organic olive oil and blended with Le Page farm eggplants. This thick sauce is then studded with 6 month aged Tuscan Pecorino. An older Tuscan Pecorino, Tuada (Italian for "cellar") bridges the gap between the younger Tuscan Pecorinos and the more aged Roman-style Pecorino Romano. This roasty, rich and delicious sauce is a show stopper. Try this new sauce with our Bucatini, Lumache & Gigli pastas. 
Ingredients: Tomatoes, Eggplant, Olive Oil, Hot Pepper, Pecorino, Tomato Paste Oregano, Scallions, Balsamic Vinegar, Salt, Silk Chilis. 
Try some of our favorite pairings!