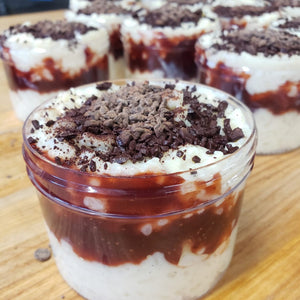 Sold in 8 oz jars, serves about 2 
This dessert is a nod to Giacomo's grandmother. She worked as a "Mondina" a rice picker in the fields of Emilia Romagna. She loved and ate rice pudding frequently because she was paid in rice. This is our Trenchers spin on a classic Italian rice pudding. 
Featuring Carnaroli rice from Cascina Oschiena in Piemonte Italy. The "Classic" distinction guarantees this is an ancient variety of Carnaroli, and Cascina Oschiena is one of only five farms in Italy to do so. They grow rice sustainably with care and precision in the province of Vercelli, and much of their land is a designated nature preserve. 
We make a rich creamy and chewy rice pudding with Sweet Rowen's pasture raised milk infused with housemade organic strawberry jam. A rich dark chocolate fudge tops this rice pudding to new heights. 
Ingredients: Carnaroli Rice, Milk, Organic Sugar, Organic Strawberries, Mascarpone Cream Cheese 80% organic dark chocolate, Salt
Try some of our favorite pairings!