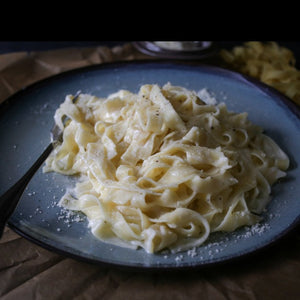 Sold by in 12 oz containers. Good for 1 Pound of Pasta. Vegan
A delicious vegan take on "Alfredo Sauce".
We are honoring this Italian American sauce with a Vermont spin! Lewis Creek Farm parsnip & farm grown turnips and organic onions are caramelized and blended to make a rich and very creamy puree. Farm grown oregano is added along with a touch of organic nutritional yeast and salt. This nutty, rich sauce is delicious dressed with our fettucini or gigli pasta. Yes it is also delicious with grilled chicken too ;)
Fettucine Alfredo took America by storm after Roman chef 
Alfredo di Lelio, featured the dish at his restaurant in Rome i
n the early to mid-20th century. This dish was traditionally an emulsion of butter and cheese served table side so as the cheese melts it create this thick sauce. In the US this sauce is traditionally make with cream, cheese and oregano. Most Italians scoff at Alfredo (mostly because they truly do not know what it is). 
Ingredients: Parsnips, Turnips, Onions, Oregano, Nutritional Yeast, Thyme, Salt.
Try some of our favorite pairings!