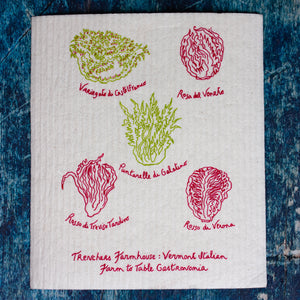 Swedish Cloths -- marvelously absorbent dishcloths; they are a wonder in the kitchen!
made of earth-friendly cellulose and cotton. Our Swedish cloths were designed and illustrated by our friends at
Wink
. Our design features 5 different varietals of Italian radicchios! This chicory is a favorite of ours to both grow and eat. They are also what we used to stamp our logo! 
. 
These cloths absorb 15X its weight, leaves surfaces streak free, and replaces up to 17 rolls of paper towel!
They air dries quickly, so it doesn't breed bacteria or smell and are machine washable as well as compostable!
Try some of our favorite pairings!