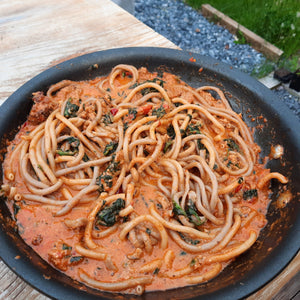 Sold in 12 oz containers (vegan & gluten free). Frozen
Travel south to Calabria! Our original  version of this classic Calabrian spicy sauce with our Vermont farm twist is back! This delicious sauce is made with roasted farm grown winter squash blended with our farm grown sweet  peppers and Hot Basque peppers, apple balsamic vinegar and oregano.

Perfect as a pasta sauce, a dipping sauce for bread or a spread for sandwiches. Make a delicious lasagna! Or try it our favorite way... bake eggs in this sauce for a rich Italian shakshuka!
Ingredients: Winter Squash, Sweet Peppers, Organic Olive oil, Hot Peppers, Oregano, Salt, Apple Balsamic Vinegar
Medium/ + on the Vermont spicy scale. 
Try some of our favorite pairings!
Baked Rigatoni alla Calabria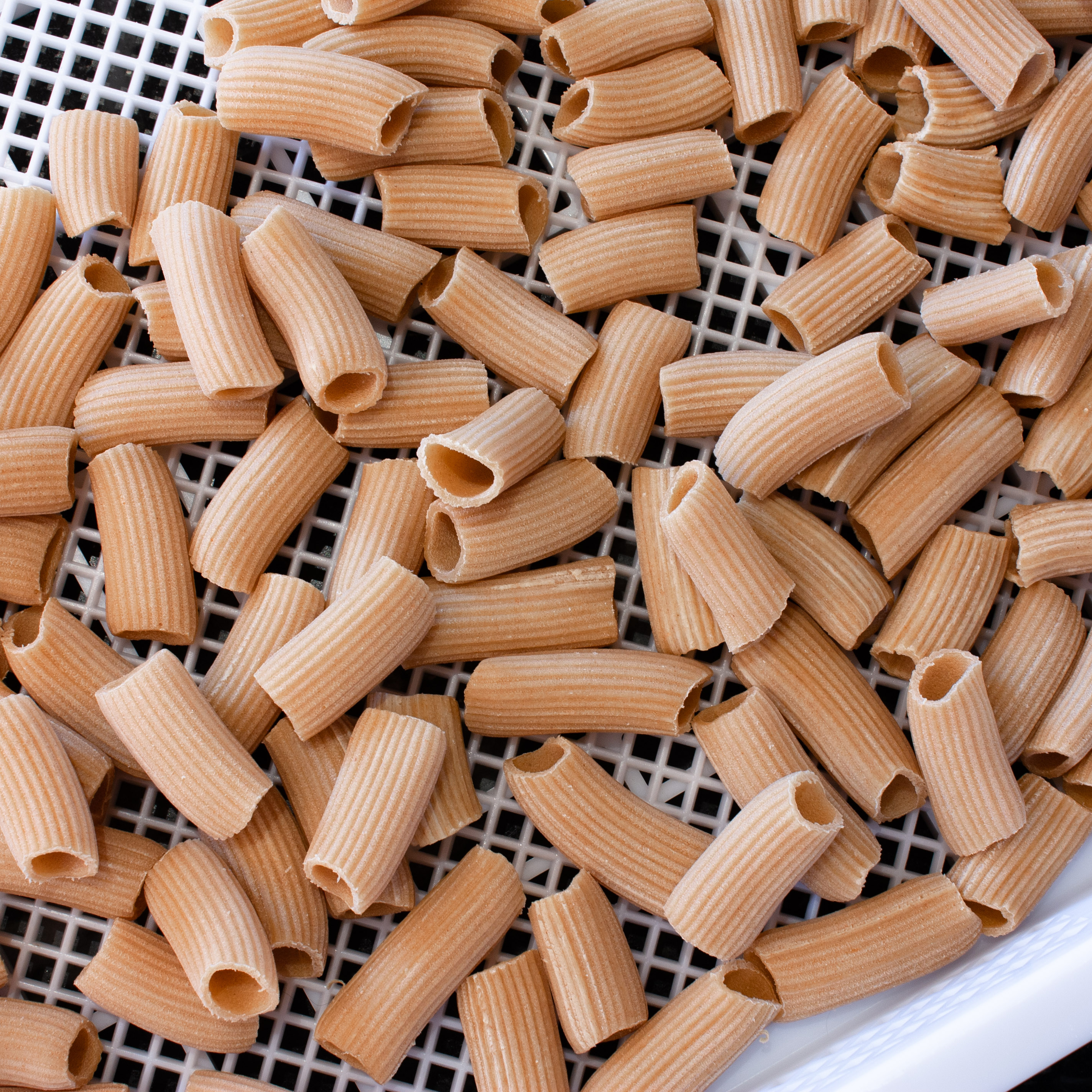 This spicy southern baked pasta is perfect for any night! Ou farm take on "baked ziti". While we suggest adding cherry tomatoes and greens to the ziti the options are endless! Roasted eggplant is amazing added into this also. This dish freezes super well. Just freeze it before the baking steps and pull out of the freezer 24 hours before you want to bake it.
Ready to serve in: 1 hour Active time: 25 minutes Serves: 4-6 Adults
Ingredients
1 lb of Rigatoni
6 oz Spicy Calabrese Sauve
16 oz of Tomatoes, crushed or canned
1/2 cup of heavy cream
1 pint of cherry tomatoes, quartered
1 large bunch of Kale, Swiss Chard or Spinach, chopped, optional
1 yellow onion, finely diced
2 cloves garlic, minced
1/2 pound of Italian style sausage, removed from casing (optional)
1 bunch of basil, chopped
1/2 bunch of parsley, chopped
4 oz of Mozzarella Cheese
2 tbsp Olive Oil
2 tbsp canola oil
Salt
Black Pepper- about 1/2 tsp
Sherry Vinegar - about 1 tbsp
Method
Bring a large pot of water to a boil. Salt it heavily, make it taste like the sea. Cook the rigatoni al dente. Drain from water and toss in 2 tbsp of olive oil. Set aside on a tray to cool.
Dice the onions, garlic, herbs and kale. Keep the herbs and kale separate from the onions and garlic.
In a large sauce pot add 2 tbsp of vegetable and heat over medium-high. Brown the sausage and then remove from the pot, leaving the oil. Turn the heat to medium-low and add onions and garlic. Saute until transparent, about 3-5 minutes.
Add Kale and saute until tender about 10 minutes. Fold in herbs and return the sausage to the pot.
Add crushed tomatoes, calabrese sauce and cream. Heat over medium-low until the mixture begins to simmer. Simmer for 2 minutes until thickens slightly. Season with salt, black pepper and sherry vinegar to taste.
Preheat the oven the 375*F.
In a large casserole baking dish toss the sauce and rigatoni together. Fold in quartered cherry tomatoes and top with Mozzarella.
Bake covered with foil for 15-20 minutes then remove the foil and bake until golden brown, about another 10-15 minutes.
Allow to rest for 5-10 minutes before serving. Buon Appetito!
Recipe Notes:
Suggested Wine Pairing: A spicy and rich dish like this one calls for a bright acidic wine with a touch of sweetness. Look for a Reisling from Clare or Eden Valley of Austrailia!