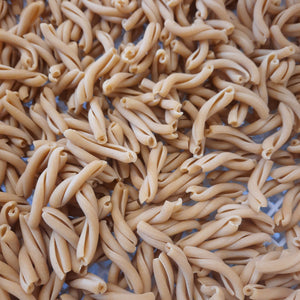 Sold by the 13.7 oz  serves 4
Strozzapreti aka Priest Stranglers!
This versatile shape has a deep history in rural northern and central Italy. Stories go that this shape got its name from the handmade version that was made in most homes in the middle ages. Priests used to travel from house to house serving their community and all houses used to feed the priest as a token of gratitude and form of alms. Because most priests went to many houses a day, this shape became known as Strozzapreti or priest stranglers due to how full the priest would be at the end of a full day's work. 
We love this shape with our alla vodka sauces, pestos and tomato sauces! It makes great baked pastas too! 
Ingredients: 100% Vermont Grown Wheat Flours, Farm Eggs
Try some of our favorite pairings!