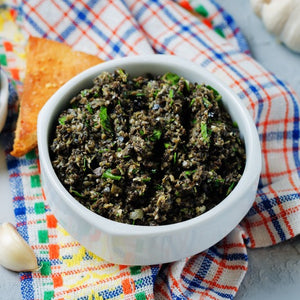 Sold in 8 oz containers - Frozen
Creamy and briney organic Lechino black olives from Rome are blended with roasted farm grown garlic and Fieldstone Farm fennel, Umbrian olive oil, farm grown chives, Profumo del Vermont and balsamic reduction. 
This tapenade is the perfect spread onto focaccia, toss with our angel hair and some tuna for a "Nicoise style" pasta or use it to make a delicious Greek style pasta salad with our mezza maniche pasta shape!
Ingredients: Olives, Extra Virgin Olive Oil, Fennel, Roasted Garlic, Oregano, Fennel Fronds, Balsamic Reduction, Profumo del Vermont. 
Photo 108123869 © Nataliya Arzamasova | Dreamstime.com
Try some of our favorite pairings!