Ragu di Carne (Tuscan Style Ragu)
There's nothing more satisfying than a good homemade ragu. While the Tuscan tradition calls for Wild Boar meat, we love a mix of local ground pork and grass fed stewing meat. This hearty sauce is just begging to be twirled through pappardelle or tagliatelle pasta.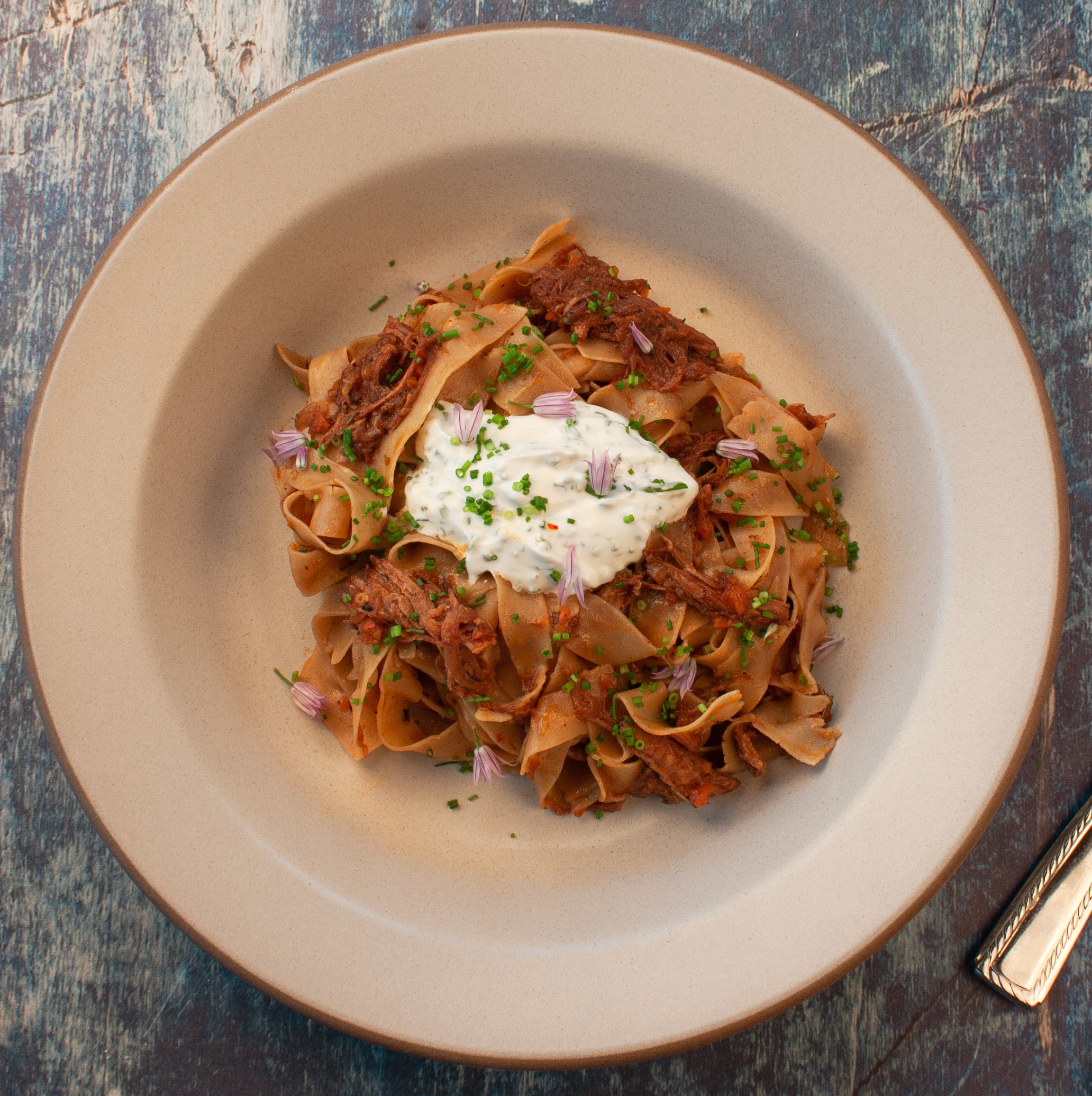 Ready to serve in: 2 hours Active time: 45 minutes - 1 hour Serves: 4 for Dinner
Ingredients
14 oz of Fresh Pasta (Pappardelle, Tonnarelli, Strozzapreti, Gigli)
1 1/2 - 2 cups of Ragu di Carni
Creme Fraiche or Mascarpone Cream, optional
1 sprig, Rosemary chopped finely
3-4 sprigs, Oregano chopped finely
Ragu di Carne Ingredient:
1½ lb Stew Beef, cut into small, ¼ in cubes
8 oz Ground Pork or Veal
¼ cup Olive Oil
2 tbsp Tomato Paste
½ medium Onion, finely chopped
1 Carrot, finely minced
1 Celery Stalk, finely minced
1 clove of Garlic, finely minced
1 sprig of Rosemary
2 sprigs of Oregano
1 Bay Leaf
14 oz crushed Heirloom Tomatoes
½ cup dry Red Wine (Chianti is traditional)
2 tbsp Salt, plus more to taste
¼ tsp Black Peppercorns, plus more to taste
¼ tsp ground Nutmeg
⅛ tsp ground Fennel Seeds
Sherry Vinegar to taste
Method
Make the Tuscan Ragu:
Season beef with salt and pepper. Add ¼ cup oil to a large heavy pot and set over medium-high heat. Work in batches to cook the meat, turning it occasionally until browned, 10–15 minutes. Transfer meat to a large plate to cool.
Season the ground pork with sale and sauté, turning occasionally until browned, 7 minutes. Add to the cooling plate.
Drain all but 2 Tbsp. fat from the pot. Reduce heat to medium, and add onion, carrot, celery and garlic, stirring occasionally until golden brown, 8–10 minutes.
Add tomato paste and stir constantly, for 3 minutes.
Deglaze with wine and cook for 5 minutes until slightly reduced.
Tie rosemary, oregano and bay leaf into a bundle with kitchen twine. Add the herb bundle, browned meat, crushed tomatoes, peppercorns, nutmeg and fennel seeds to the pot.
Add water to barely cover the meat and bring to a boil. Cover, reduce heat and simmer, adding more water as needed so that the meat is always barely covered, until the meat is very tender, 1–1½ hours.
Discard herb bundle. Taste and season with salt, black pepper and sherry vinegar.
Bring it Together:
Cook the pasta until al dente. Strain and set aside!
In a large sauce pan, combine ½ cup of ragu per portion of pasta. (For 1lb of pasta, 2 cups of ragu is plenty).
Add half of the reserved pasta water and heat over medium-low. Stir gently to incorporate. As the sauce heats, the ragu will thicken and become slightly creamy. Add remaining pasta water as desired. Fold in the rosemary and oregano.
Taste and add any additional salt, black pepper or sherry.
Top with a dollop of crème fraiche or mascarpone cream. Buon Appetito!
Recipe Notes:
When picking a dry red wine to use for the Rague, grab a bottle you would enjoy to drink with the ragu. Use a glass. Delicious wine makes delicious ragu!
Wine Pairing made simple, Tuscan ragu = Tuscan wine. We love a bold red wine made from Sangiovese grapes in the heart of the region this dish is inspired by. Chianti Classico, Brunello di Montalcino or Bolgheri are some of our recommended regions.
Looking for a vegetarian ragu option? Check out our Ragu di Funghi!