Spanish style Tomato Fideuà
We love this easy one pot noodle style "paella" for a show stopping dinner. Try serving it with a honey & lime marinated grilled pork tenderloin for a delicious Spanish BBQ feast.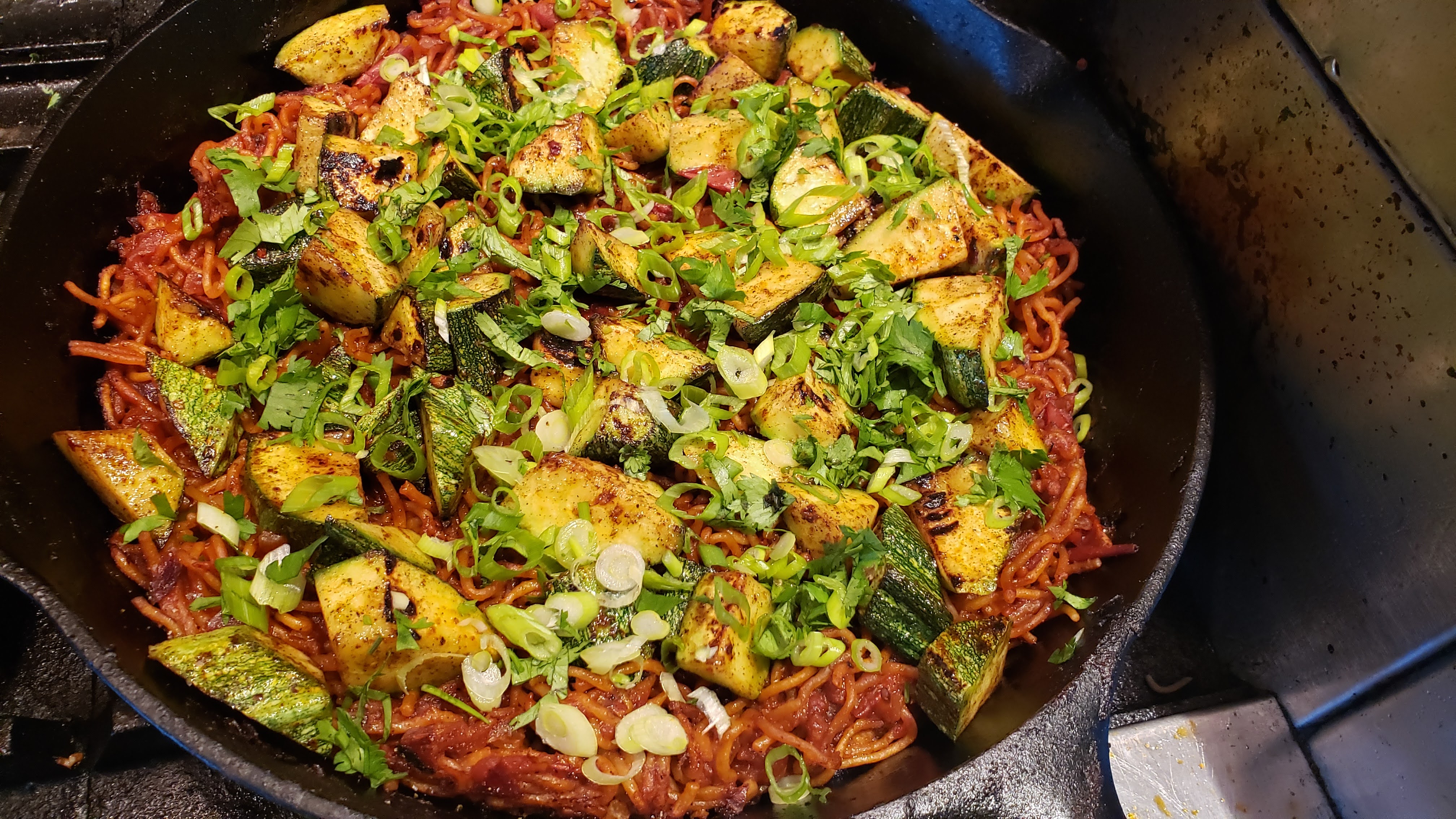 Ready to serve in: 1 hour Active time: 45 minutes Serves: 4
Ingredients
1 lb of Fideus noodles- See recipe note below

2 ¼ c of Vegetable Broth/ Brodo

2 Tomatoes, chopped or 1 -16 oz can of tomatoes

1 small Red Onion, chopped

1 Serrano pepper, or 2 Jalapeno peppers, chopped

3 cloves of Garlic, minced

3 tbsp of Tomato paste

2 tbsp of Harissa paste (or 1- 4 oz can of Chipotle in adobo, chopped)

¼ c + 2 tbsp Vegetable oil

1 ½ tsp Paprika

½ tsp Cumin

1 ½ tsp Salt

Juice of 1 Lime (from reserved Lime juice in marinade)

3 Summer Squash, cut into 1 in pieces and grilled, (optional)
Method
In a heavy bottomed, non-stick saute pan or cast iron skillet, add 2 tbsp of vegetable oil and heat to medium. Saute the red onion, garlic and pepper until soft and translucent but not brown, about 4 minutes.

Add the tomato paste and stir well. Reduce to medium-low heat and cook until the tomato paste begins to darken in color, about 3 minutes.

Add the harissa paste, cumin, paprika and 1 tsp of salt. Cook for additional 2 minutes until fragrant, stirring constantly.

Add the chopped tomatoes and cook until the sauce results in a marmalade-like consistency, about 5-10 minutes. Set aside.

In the same pan or cast iron skillet, add remaining vegetable oil and increase the heat to medium.

Add the raw fideos noodles and toss them in the oil using tongs. The fideos will begin to toast and brown. Cook, tossing frequently until the noodles are dark golden brown and crisp, about 4-6 minutes.

Add the tomato mixture to the toasted fideos and toss with tongs to coat the noodles.

Reduce the heat to medium-low and add 1 3/4 cup of vegetable broth. Stir well once and wait until the mixture has reduced until almost. Taste the noodles, they should still have a good bite to them. Add the remaining broth and completely reduce, about 10-15 minutes. The bottom of the noodles will brown, but keep a close eye on them to ensure they don't burn! The easiest way to check is to use a spatula to peek.

Remove from heat and allow to rest for 5-10 minutes.

Serve with the Fideos and grilled vegetable of choice (if desired) that have been also been garnished with the juice of 1 lime and some of the cilantro and scallion mixture.
Recipe Notes:
This recipe works best with our fresh angel hair pasta used as the fideus noodle., simply unravel our fresh pasta nests and cut them with sharp scisors or a knife into 1 in pieces. Its okay if they stick together a little.
If you only have frozen angel hair, we recommend defrosting your pasta on a kitchen towel in the fridge the night or minimum of 3 hours or so before and usinga tbsp or two of all purpose flour when you cut them.
You can also use dried angel hair or vermicelli noodles, just increase the stock about by 1/2 a cup and cook an addition 5-10 minutes.