Gramigna Panna, Piselli e Salsiccia
This dish has deep roots in Emilia Romagna. Growing up Giacomo enjoyed this dish weekly in school and at home. The traditional dish does not use peas but we love the little pop of texture and brightness they bring to this dish. Simple, delicious, crowd pleasing.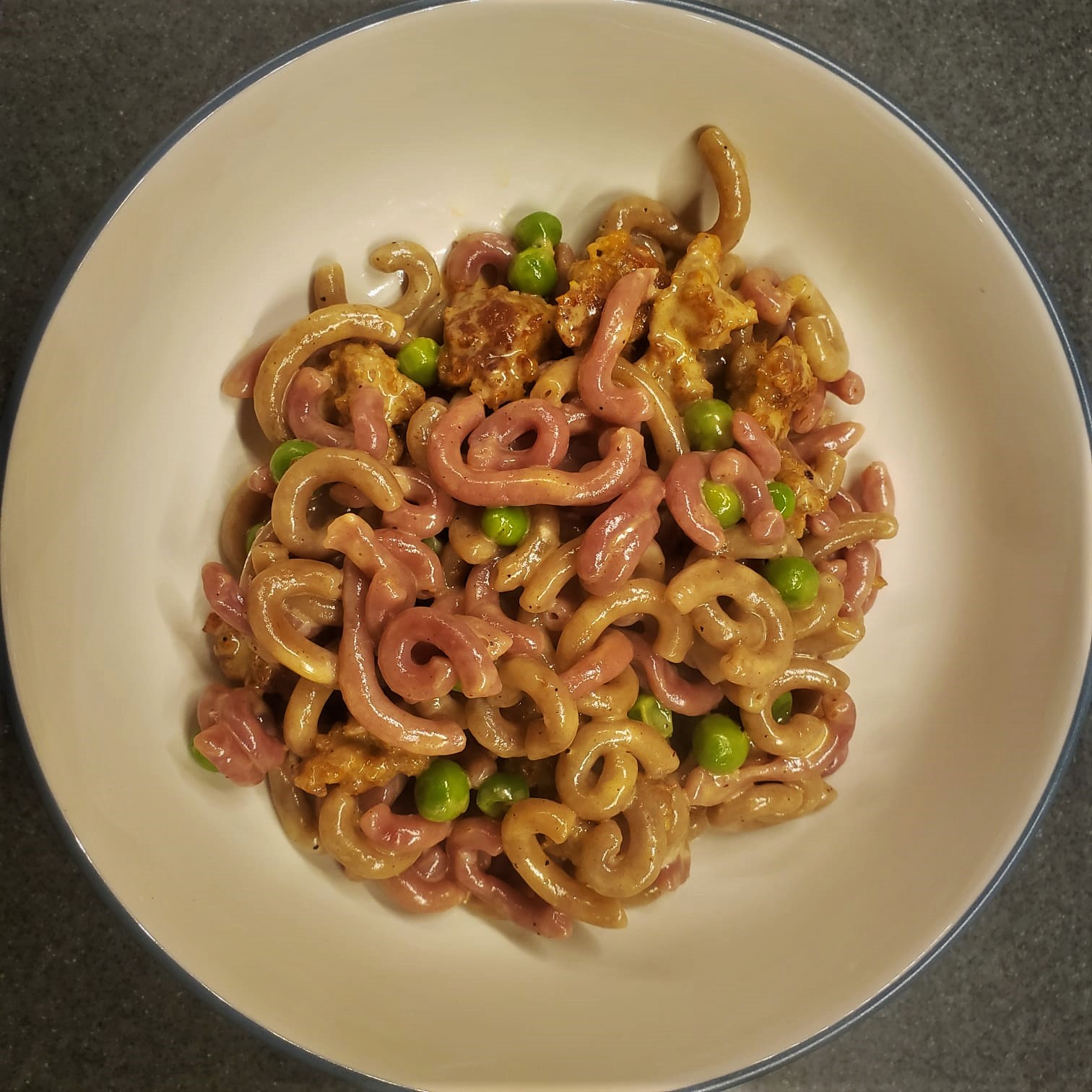 Ready to serve in: 20 minutes Active time: 20 minutes Serves: 4 Adults
Ingredients
1 pound of Gramigna Pasta or Macceroni style shape
4 links of Italian Sausage, removed from casing
1 1/4 cup of Cream
1 clove of Garlic, minced finely
2 tsp Vegetable Oil
3/4 cup of Peas, frozen or fresh
Salt, to taste
Nutmeg, grated
3/4 cup of Pasta Water
Parmessan Cheese, to finish
Black Pepper, to taste
Method
Cook the Pasta: Fill a large pot 3/4 of the way with water. Bring to a boil and add salt until teh water taste salty but not quite like the sea. Cook the gramigna until al dente. Reserve 1 cup of Pasta Water and drain the gramigna. Set aside.
Make the Sauce: In a large saute pan, over high heat, add the vegetable. Crumble the sausage into the pan and sear until golden and cooked through. Drain off excess oil, if desired. Over medium-low heat, add the cream to the sauce as well as the finely minced garlic, grated nutmeg, salt and black pepper. Simmer over low heat until the cream thickens slightly, about 6 minutes. Add the peas and simmer for 1minute. Add the pasta and 1/2 - 3/4 a cup of the pasta water. Simmer everything together until the sauce thickens and coats the gramigna, about 8 minutes.
To Serve: Top the pasta with alittle freshly grated parmessan cheese and black pepper.
Buon Appetito
Recipe Notes:
While peas are delicious in this recipe, we find ourselves making hundreds of variations of this dish. Finely chopped broccoli, sauteed mushrooms, touch of blue cheese, switch the sausage for salmon, your creativity is the limit.
Suggested Wine Pairing: Grab a high acidity light bodied red like a Nebbiolo from Valle d' Aosta or Northern Piemonte. We also like this with a richer white wine like Arneis or Soave Classico.