Grilled Corn "Elote" Radiatori
Is there anything better than summer sweet corn? Grill it, coat it in cumin and chilies and top it with salty cheese. This dish is our ode to this classic Mexican street corn. You can easily omit the chorizo to keep it vegetarian. Eat it hot or serve it cold both ways are delicious. At our house we always make enough to enjoy it both ways because why choose. 
The Creamy Salsa Verde sauce recipe is delicious on its own also. Make it without folding in the sour cream to keep it nice and green if you want to make it a couple days ahead of time. It also freezes well so making a larger batch is what we usually do.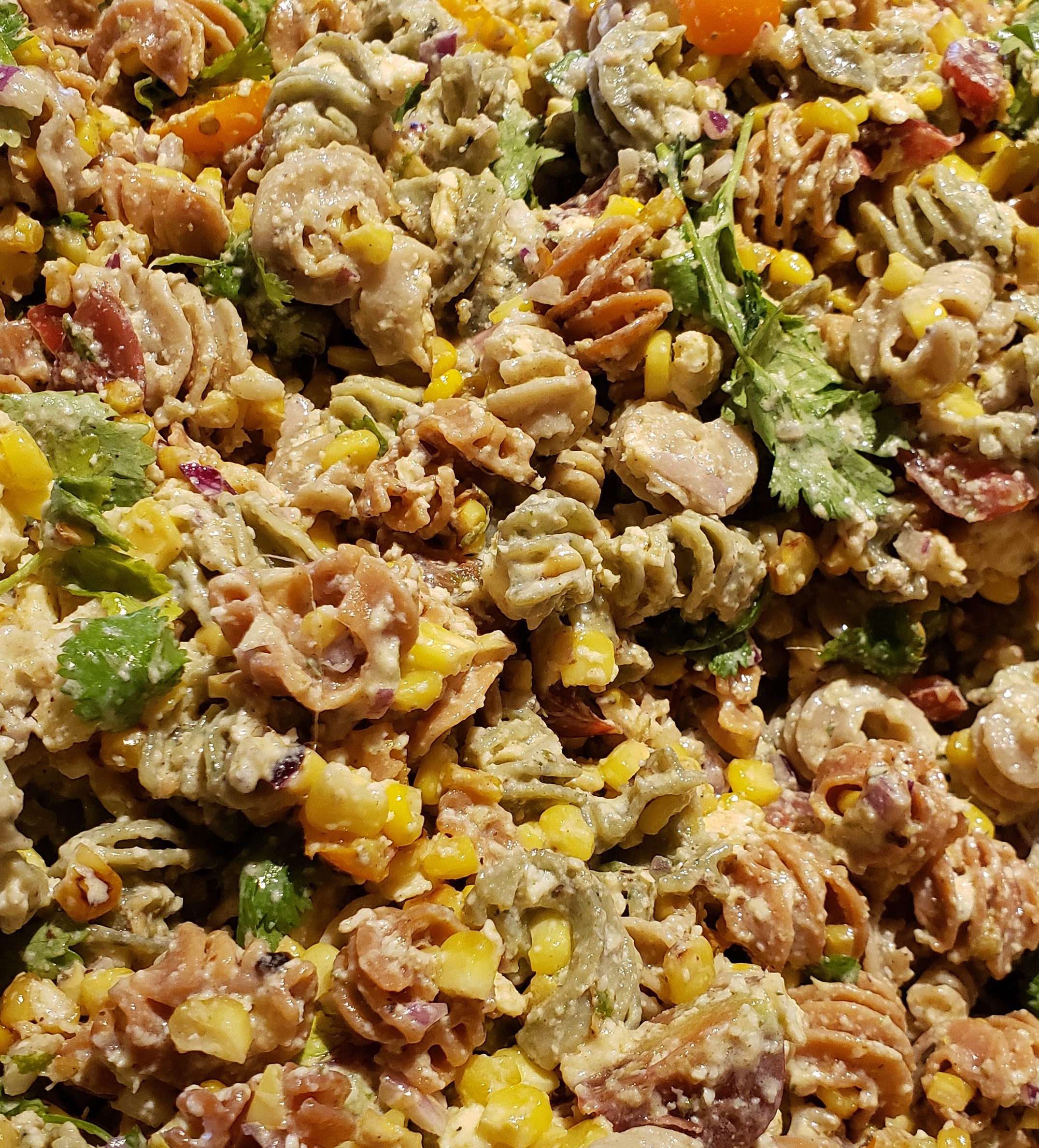 You can also grill the whole corn cobs and then cut them off the cobs instead of searing the kernels.
Ready to serve in: 45 minutes Active time: 35 minutes Serves: 4 Adults
Ingredients
1 pound of Radiatori Pasta
1 Red Onion, diced small
1 bunch of Cilantro, chopped
1 pint of Cherry Tomatoes, halved
1 bunch Radish, shaved thin
4 ears of Sweet Corn, Shucked and kernels removed from the cobs
1 cup of Creamy Salsa Verde Sauce
6 oz Feta Cheese, Queso Fresco or Cotija Cheese, Crumbled
2 links or 4 oz of Chorizo, casing removed
1/2 bunch of Scallions
Creamy Salsa Verde Sauce:
1 pound of Tomatillo (or green tomatoes), quartered
1 bunch of Cilantro
1/2 Red Onion, cut into wedges
1 tsp of Cumin, ground
3 Jalapenos, (we like it spicy so feel free to use less), chopped
2 cloves Garlic, smashed
1 cup of Sour Cream, or Greek style Yogurt
3 tbsp Vegetable oil
3 limes
Salt
Method
Make the Salsa Verde: Preheat the oven to 425*F. On a lined sheet tray place cut tomatillos, red onion, jalapenos, garlic cloves and cumin. Toss with vegetable oil and about 1 tbsp. of salt. Roast until the tomatillos are soft and golden brown, about 15 minutes. There will be a lot of juice, this is good!
Blend the roasted vegetables until smooth with the bunch of cilantro and the zest and juice of 3 limes. Add sour cream of yogurt. Taste and season with salt and lime juice to taste. This can be made up to a week ahead of time and keep refrigerated. Or freeze it without the sour cream!
Make the Pasta Salad. Prepare all of the vegetable (chop the cilantro& onions, shave the radishes, shuck the corn, halve the tomatoes). Remove the chorizo from the casing and crumble into bite sized pieces. Crumble the cheese. In large pot of boiling salted water, cook the radiatori following the pasta maker's suggestion. Cook the pasta until al dente and drain from the water. Allow to cool on a sheet tray and toss the pasta in 1 tbsp of olive oil. In a cast iron or non stick pan over high heat brown the chorizo until fully cooked. Remove the meat from the pan but leave the oil. Turn the pan back onto high heat and char the corn. Allow to cool. In a large bowl combine all ingredients! Taste and season with salt, cumin and lime juice. Buon Appetito!