Ultimate Dark Chocolate Chip & Brown Butter Cookie
These cookies are perfect for making a double batch and freezing them, and in fact the best texture of these cookies come from baking them directly from frozen! While you can use any dark chocolate, we recommend using a chocolate bar and chopping it into rough square pieces. Our favorite is either the Mashpi 65% Chocolate Bar or the Mashpi 80% Chocolate Bar (which can be found on our website). This lets the chocolate shine along side this nutty cookie dough. Take it to the next level by adding a 1/4 of tsp of cardamom to this dough.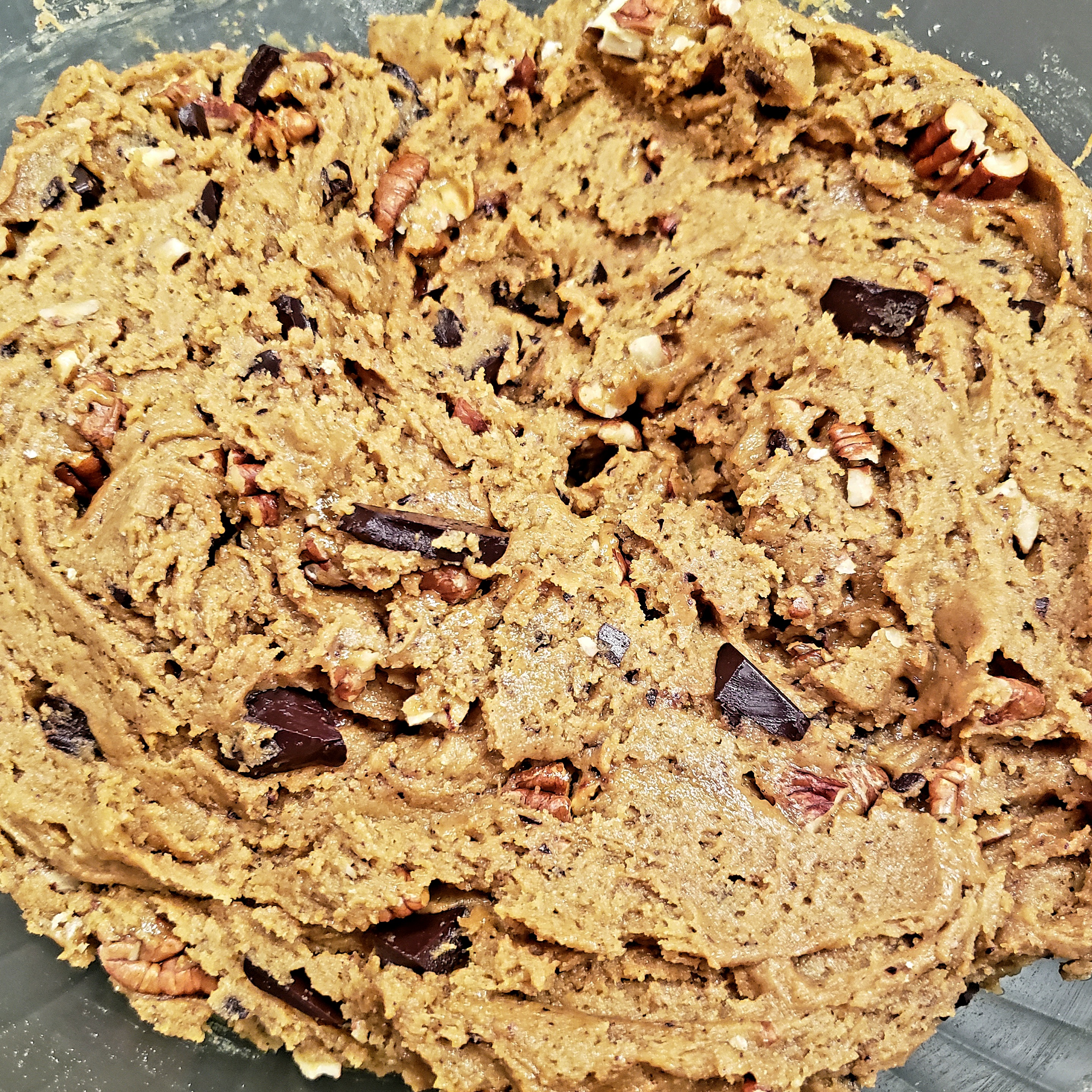 Ready to serve in: 45 minutes Active time: 20 minutes Serves: Makes about 16 large cookies
Ingredients
4 cups AP Flour
3 tbsp Cornstarch
2 1/4 tsp Baking Soda
3 large Eggs
2 3/4 cups Brown Sugar or Raw Sugar
3 sticks Butter, divided use
1 tsp Sea Salt
1 Dark Chocolate Bar (100grams)
1/2 cup toasted Pecans, chopped, optional
Method
In a small sauce pot over medium heat, brown 2 sticks of butter. Cook the butter until it becomes, nutty fragrant and dark golden brown, stirring frequently. Remove from the heat and add the remaining stick of butter. Stir together until the stick is melted and allow to cool to body temperature in a large bowl.
Add the brown sugar to the cooled butter and mix with a wooden spoon until incorporated.
Add 1 egg at a time, beating well between additions. After all eggs are added mix well until the batter becomes lighter in color and slightly thicker, about 2 minutes
Chop the nuts, if using and the dark chocolate into bit sized pieces, set aside.
Add the sea salt, baking soda, corn starch and flour to the butter, sugar, egg mixture. Gently stir together until the flour is about 75% incorporated, some saggy pockets are okay.
Add the nuts, chocolate and any spices if desired and mix the batter until there is no longer any dried flour.
Allow the batter to rest for at least 20 minutes in the fridge.
Form 2 oz (about 1/4 cup) dough balls. At this point we like to freeze the dough overnight but you can bake it now just give the dough another 15 minutes or so in the freezer before baking.
Bake at 350* (with no fan) for 8-10 minutes then rotate the tray and bake for an additional 8-10 minutes*. Allow to cool and enjoy!
Recipe Notes:
*Bake times are the hardest things to create because one time and temperature does not fit all ovens. If your oven runs hot, drop the bake time to 325*F. Some ovens may need an extra 2-5 minutes of bake time as well especially if it does not have a fan. If your oven has a fan you can use it but you may need to cut off a minute or 2 depending on the oven.
We like cookies that are crispy edges, gooey centers but bake the cookies to your preference!