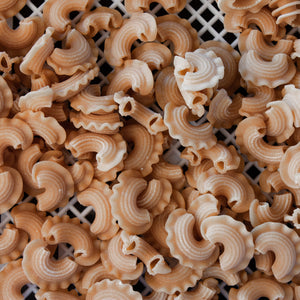 Sold by the 13.7oz.  Serves 4 VEGAN
Recommended Cooking Time: 4-6 minutes

This fun shape is named after the comb of the rooster! Made with our signature Vermont Wheat flour blend for a delicious versatile vegan pasta. This macaroni style shape is perfect for creamy sauces, baked pastas, pasta salads and soups!
See the recipe below for our fun take on broccoli cheddar mac & cheese.
Contains: 100% Vermont Grown Wheat,  
Try some of our favorite pairings!
Cheddar, Broccoli Mac & Cheese with Crispy Prosciutto Topping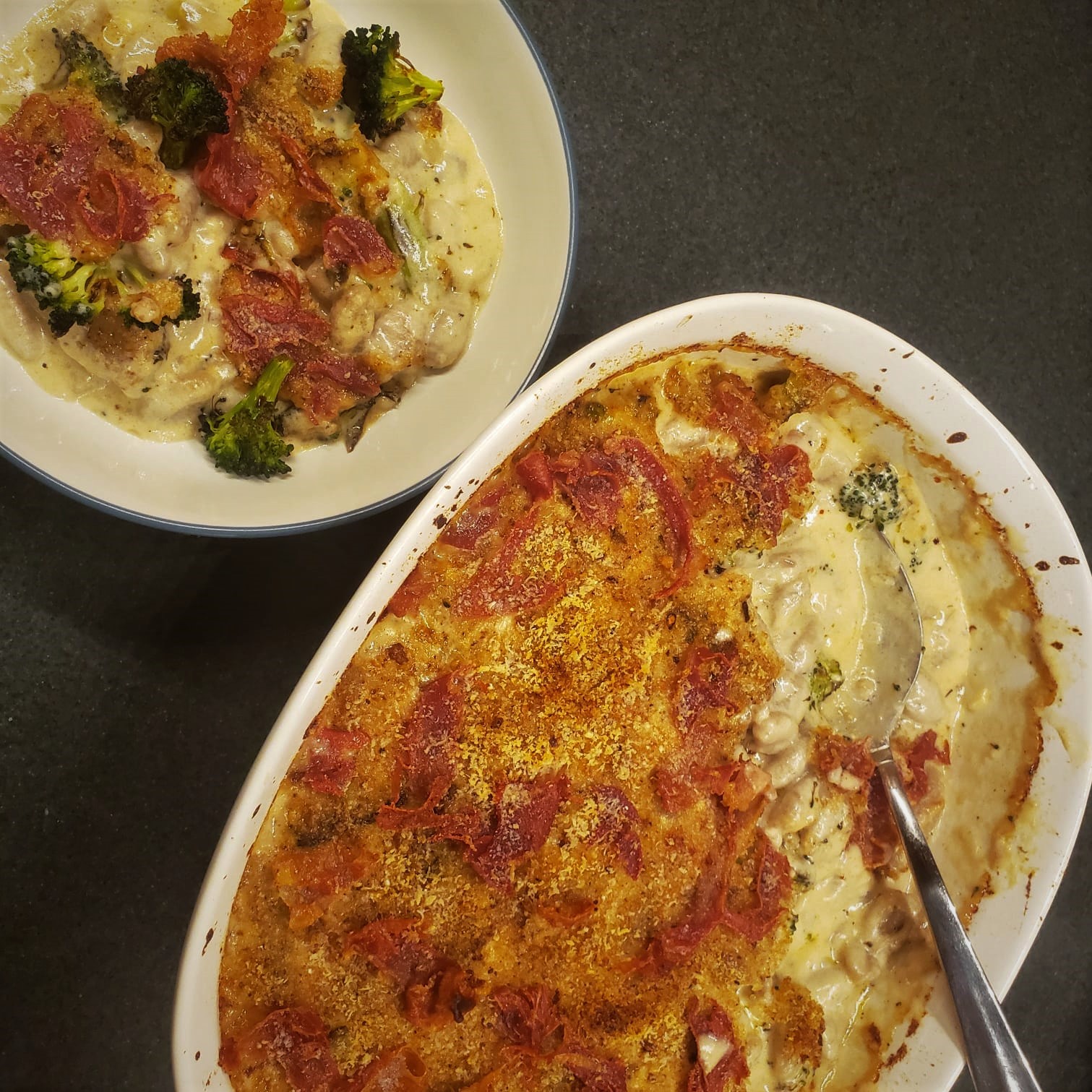 We've created a mash up of two classics- Broccoli Cheddar Soup & Mac and Cheese. While mac & cheese is not traditionally Italian, this version has Giacomo coming back for seconds always! This recipe is perfect with the Creste di Gallo pasta shape or Gnocchetti Sardi. No one will ever be mad that this dish is on the table.
Ready to serve in: 1 hour Active time: 35 minutes Serves: 4-6 Adults
Ingredients
1 # of Creste di Gallo, Gnocchetti Sardi or other heartier short pasta shape
Roasted Broccoli
1 head of Broccoli
3 tbsp Vegetable Oil
1/2 tsp salt
pinch of Chili Flakes, optional
1/2 lemon, zested
Cheese Sauce
2 cups Milk
1/3 cups Cream (optional, can use milk instead)
1.5 oz Butter
1/4 c Flour
1/2 a Red Onion, diced finely
1 clove of Garlic, minced
1/4 tsp Paprika
1 1/2 tsp Salt
1 1/2 cup Cheddar Cheese, grated
1/4 cup Parmessan Cheese, grated
pinch of Black Pepper
dash of Sherry Vinegar
Parmessan & Proscuitto Topping
4 slices of Prosciutto
1/4 cup of Parmessan Cheese
1/8 cup of Breadcrumbs
Method
Roast the Broccoli: Preheat the Oven to 425* F. Cut the head of broccoli into quarter sized florets. Toss the florets in 3 tbsp of oil, salt, chili flake and lemon zest. Spread onto a lined sheet tray in 1 thin layer. Do not over crowd the pan. Roast the broccoli in the oven until slightly crispy, about 10 minutes. Remove from oven and set aside.
Make the Topping: Combine the grated parmessan and breadcrumbs together with a pinch of salt. Set aside.
Make the Cheese Sauce: In a medium sauce pot melt the butter over low heat. Add the finely diced red onion and minced garlic. Sweat over medium-low heat until soft and translucent, about 5 minutes. Add the flour and stir well with a wooden spoon. This mixture will be thick. Allow the flour mixture to cook until the mixture smells slightly toasty, about 3-5 minutes. Turn the heat to medium and switch the wooden spoon for a whisk. Add 1/2 a cup of milk at a time, whisking well after each addition to ensure that the sauce becomes smooth and does not clump. Add cream, if using. Allow this mixture to come up to a low simmer and cook until it coats the back of a spoon, about 8-10 minutes. Fold in the cheddar cheese, parmessan cheese, paprika, salt, and sherry vinegar. Mixing until smooth and the cheese is melted. Turn off the heat and fold in the roasted broccoli.
Cook the Pasta:Fill a medium-large pot 3/4 with water. Bring to a boil. Add enough salt so the water tastes salt but not quite as salty as the sea. Cook your pasta 2 minutes less than the recommened cooking time. Reserve 1 cup of pasta water and drain the pasta.
Bring it all Together: Make sure the oven is preheated to 425*F. Add the cooked pasta and 1 cup of pasta water to the broccoli and cheddar sauce. Pour this mixutre into an oven safe casserole dish. Sprinkly the top with 3/4 of the parmessan and breadcrumb topping. Tear small pieces of proscuitto, if using and scattter it over the top. Top with the remaining breadcrumbs. Bake in the oven until the top is golden brown and bubbly, about 15 minutes.
Buon Appetito!
Recipe Notes:
This dish easily becomes vegetarian, just omit the proscuitto.
Want to make it gluten free? Switch the flour out for a cup for cup gluten free blend, we like Caputto's or Bob Red Mill's Gluten free 1-1 baking best.
Pair it with some wine: Grab a Chenin Blanc from South Africa or California! This high acid wine with the warmth from these wine regions is our go to!