Sold by the 13.7 oz. Serves 4
This traditional shape from Naples is going to become your new favorite noodle! Lovely ridges to twirl through all the sauce, this noodle is perfect with thick, hearty sauces. While untraditional, we love pairing this pasta with homemade meatballs. See our recipe below.

Ingredients: 100% Vermont Grown Wheat Flour, Farm Eggs
Try some of our favorite pairings!
Trenchers' Polpette (Housemade Meatballs)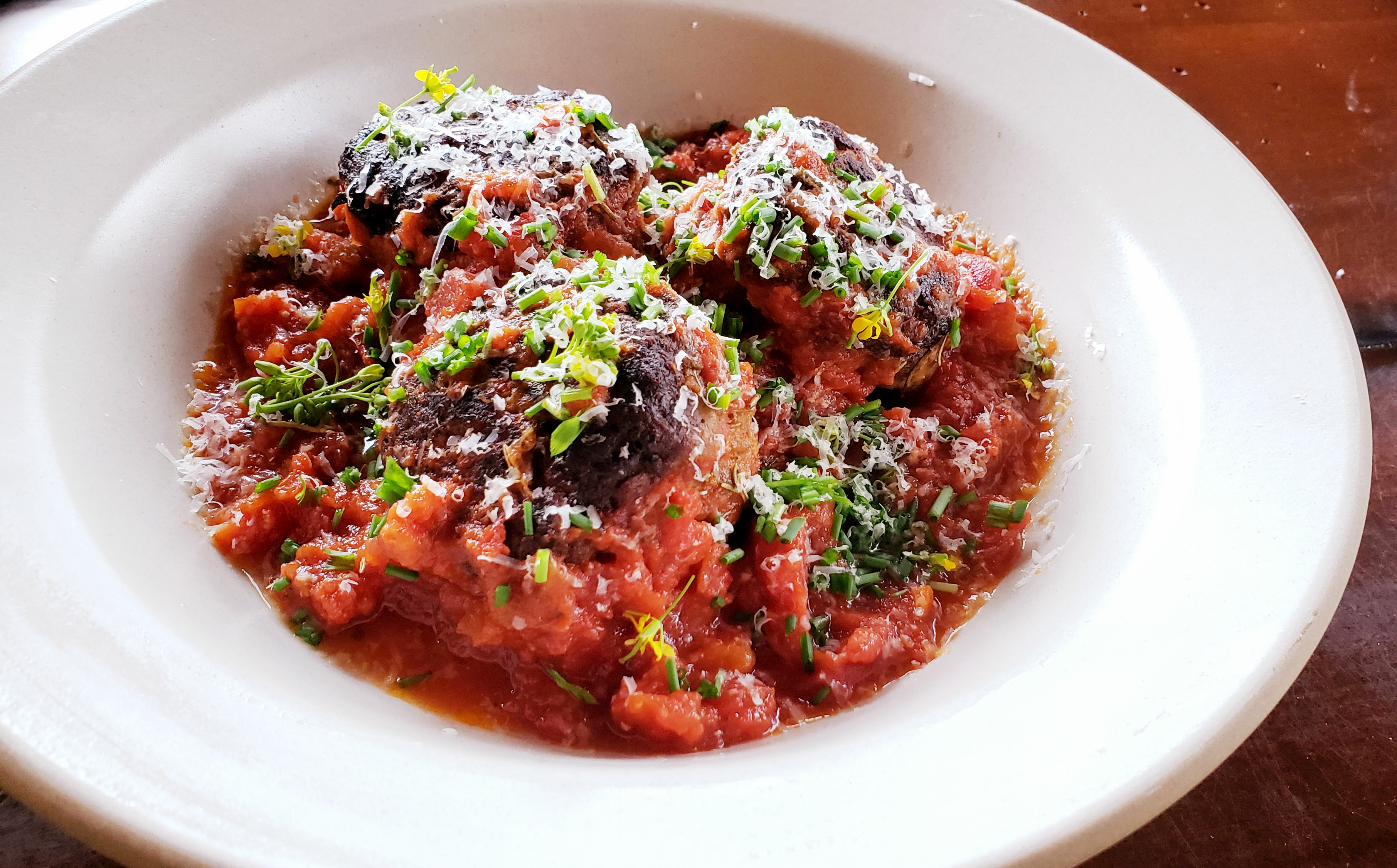 The classic meatballs... while here in the USA we always see them on top of a giant mountain of spaghetti, in Italy they let the meatballs be the star of the show instead of the side kick. Every kitchen needs to have polpette in their meals rotation. Best part is it's easy to double the recipe and have lunch too! Meatballs can be frozen to cook off at a future time as well. If you co want to serve them with pasta, our favorite shape is the Malfaldine. We also will make the polpette into polpettini (small meatballs) about 1/3 of the size.
Chef Tips: The secret for good meatballs is to work the meatball fix to help them become firmer. When mixing and shaping, knead the mixture well.
Ready to serve in: 45 minutes to 1 hour Active time: 25 minutes Serves: Serves 4-6, makes about 16 large meatballs.
Ingredients
Polpette Ingredients:
1 lb ground beef
1 lb Italian style sausage, bulk or casing removed
2 eggs
3/4 cup of breadcrumbs
1/2 bunch of fresh oregano, chopped (1 tsp dried)
1 large sprig of fresh rosemary (1/4 tsp dried)
1/2 bunch of fresh parsley
1 ea lemon, zest
1/2 red onion, minced
1/2 head of fennel, minced
2 cloves garlic, minced
1 1/2 tsp chili flake
1/2 cup Parmesan cheese
1/4 cup ricotta cheese
1 1/2 tsp black pepper
1/4 cup + 1 Tbsp olive oil
1 Tbsp salt (to taste)
Ingredients to Finish:
24 oz chopped or smashed tomatoes, canned or fresh
oregano, rosemary, parsley chopped
2 Tbsp extra virgin olive oil
1 tsp chili flake (optional)
Parmigiano Reggiano
Malfaldine Pasta, optional
Method
In a medium saute pan add 1 Tbsp of olive oil and place over medium heat. Add onions, fennel and garlic. Saute until translucent about 5-8 minutes. Set aside to cool.
2. In a large mixing bowl, combine ground beef, Italian sausage, eggs, cooled veggies, Parmesan cheese, ricotta cheese, bread crumbs, herbs, lemon zest, salt, black pepper and chili flake.
3. Mix well, see our chef tips. Cover the bowl and allow to rest in the fridge for at least 30 minutes.
4. Portion the mixture into meatballs. Our favorite is a large 4 oz cookie scoop. Place onto a lined sheet tray.
5. Preheat the oven on to 375* F
6. In a deep baking pan coat the bottom with the crushed/ smashed tomatoes, olive oil, chopped herbs, and chili flake. Set aside.
7. In a heavy bottom saute pan or cast iron skillet add 1/4 cup of oil and place over medium heat. When the oil is hot add the meatballs, working in batches to not crowd the pan. Saute meatballs until crispy and golden then flip and repeat on the other side. Set onto a paper towel to drain. The meatballs should still be raw in the center.
8. Repeat with the rest of the meatballs.
7. Nestle the meatballs in the tomato mixture and bake for 15-20 minutes.
8. Top with parmigiano reggiano and serve.