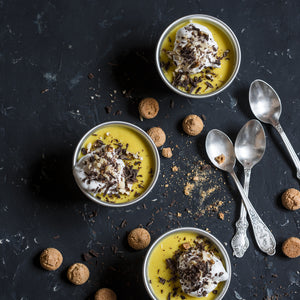 Serves 2
Semifreddo is a classic Italian frozen dessert. This "frozen mousse" is a fun treat.
Semifreddo is not churned like ice cream, instead this light and airy mousse is set and frozen.
This layered frozen dessert features two delicious mousse layers. A Wild amazonian Vanilla Bean mousse with a rhubarb jam core.
Gluten free version has cacao nibs on top. The cookie version has a layer of cacao nib shortbread.
 Contains Eggs & Dairy (Cookie version contains wheat)
Try some of our favorite pairings!