Gnocchetti Sardi in Octoberfest Beer Cream Sauce with Roasted Chicories & Sausage
This easy 30 minute recipe is fall on a plate! We love the way the Sam Adams octoberfest beer brings out the nutty sausage and mustard flavors.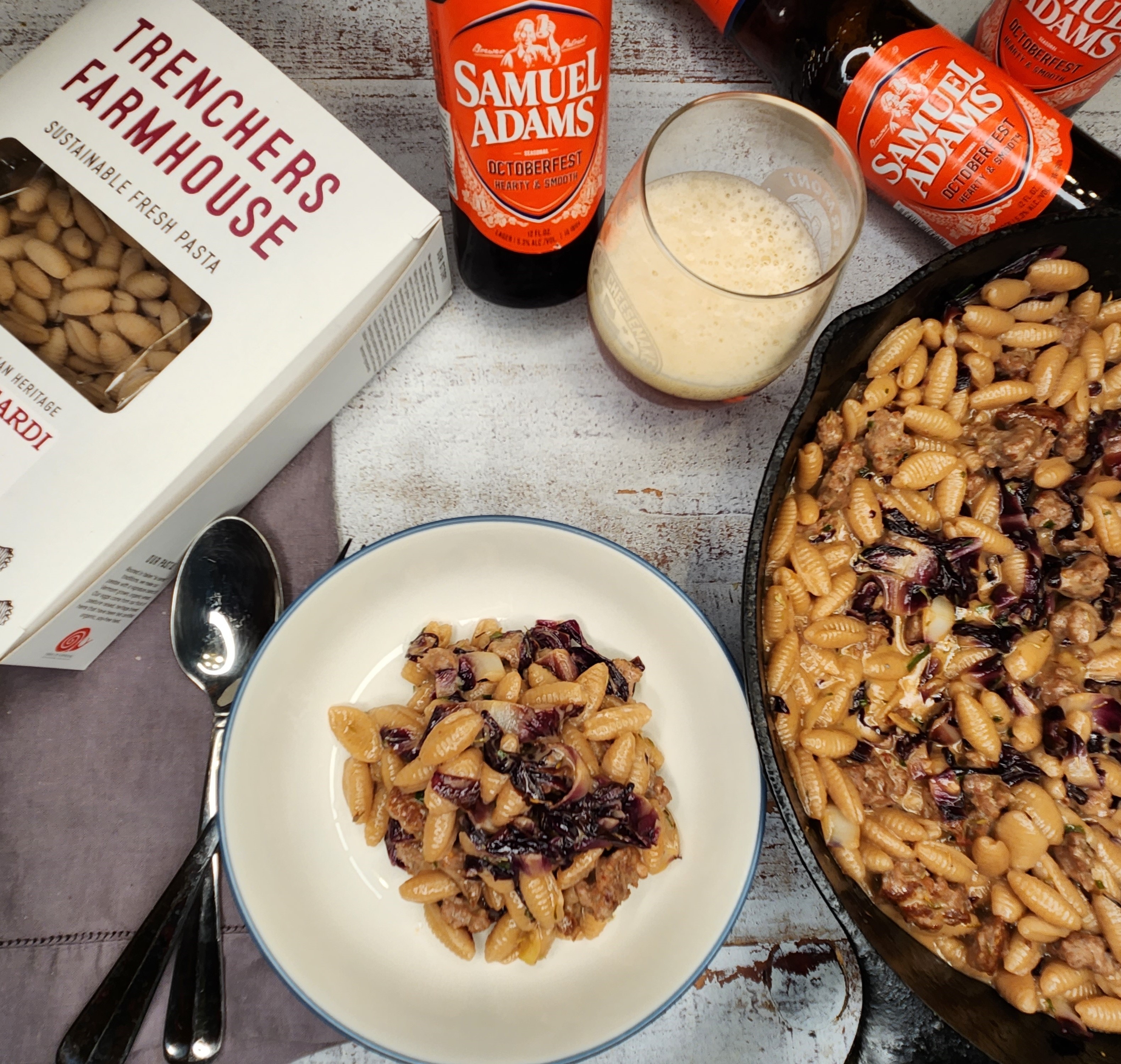 Ready to serve in: 30 minutes Serves: 4 Adults
Ingredients
1 package (13.7oz) of fresh Trenchers Farmhouse Gnocchetti Sardi pasta
1 large head of radicchio
2 link of sweet Italian style sausage
2 cloves of garlic
½ cup heavy cream
1 cup Sam Adam's Octoberfest Beer
2 tbsp dijon mustard
1 tbsp maple syrup
1 tsp dried thyme
1 tbsp extra virgin olive oil (EVOO)
1 tbsp balsamic vinegar
Black pepper
1 bunch fresh chives
Kosher Salt, to taste
Parmigiano Reggiano to taste
Method
Prepare the ingredients, keeping them all separate. Finely dice or grate the garlic cloves and slice the radicchio into ½ inch strips. Remove the sausage from the casing and crumble.
Bring a large pot of water to a boil, season generously with salt. Cook Trenchers Farmhouse "Gnocchetti Sardi" pasta until al dente. Drain and set aside, reserving 1 - 1 ½ cups of pasta water for later use.
In a large saute pan over medium heat, add 1 tbsp of EVOO and saute the crumbled sausage until golden brown.
Add the grated garlic with a pinch of salt. Allow to cook on medium heat for 1 minute until just fragrant.
Add the sliced radicchio with a pinch of salt. Saute until wilted, about 2 minutes then deglaze the pan with 1 bottle of Sam Adam's Octoberfest beer. Cook until the liquid is reduced by half, about 5-8 minutes.
Add dijon mustard and cream. Stir and allow to cook together until the sauce slightly thickens to coat the back of a spoon about 3-5 minutes.
Add 1 tbsp of maple syrup and balsamic vinegar and stir into the sauce.
Add the cooked Gnocchetti Sardi pasta along with 1 cup of pasta water into the pan. Bring to a simmer until the sauce thickens and coats the pasta.
Taste & Season with any additional maple, salt and balsamic vinegar as desired. Fold in the chopped chives.
Buon Appetito!