Gnocchetti Sardi with Lemony Roasted Greens
Giacomo's mom, Antonella, inspired this dish. She makes roasted puntarelle (an Italian chicory, think asparagus and dandelions had a baby) with olives and lots of lemon almost every week. At home in Vermont we love making our version of this with puntarelle in the fall, but also with heartier greens like Kale, Swiss Chard or Collard Greens in the summer.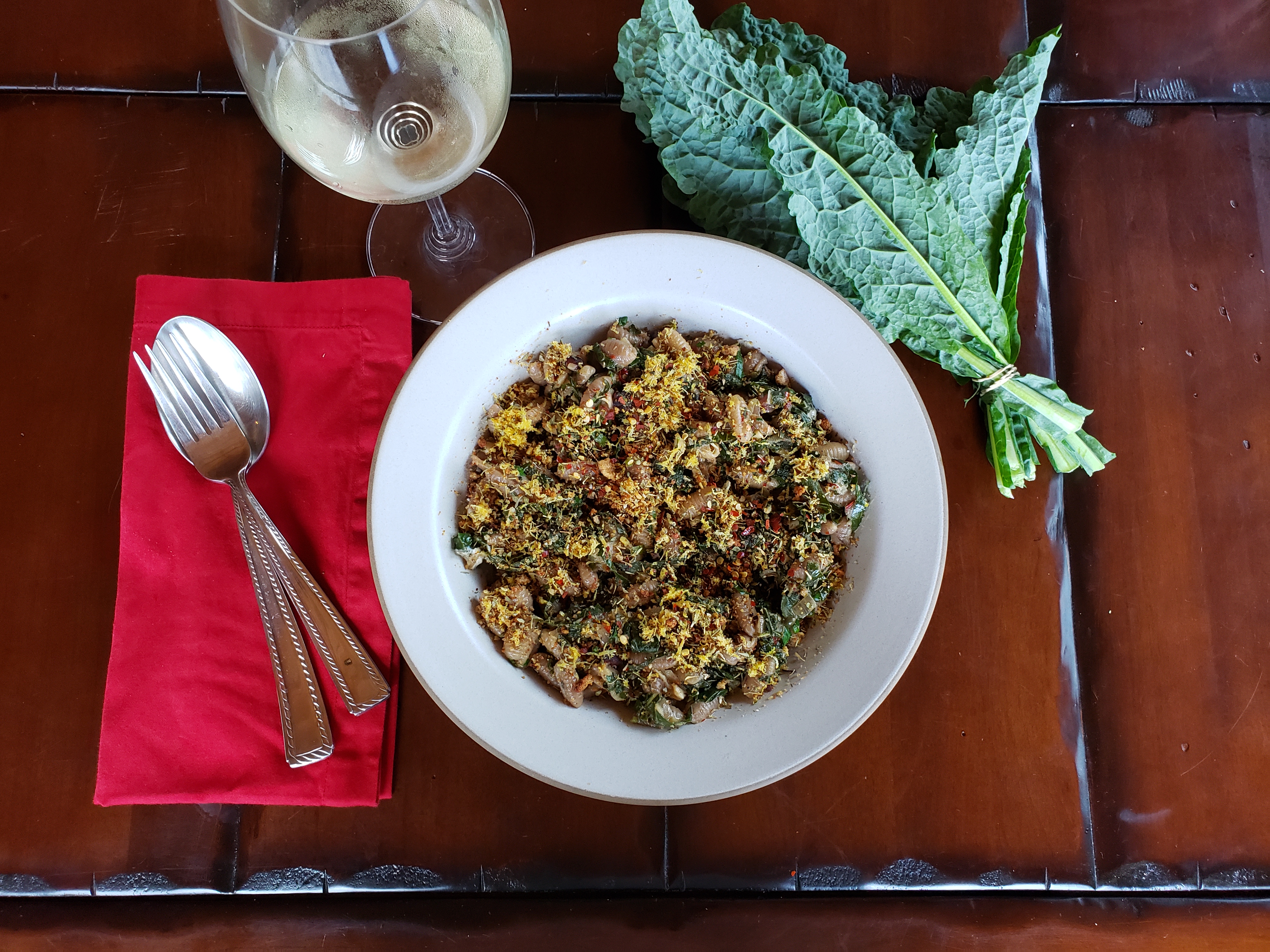 Ready to serve in: 35 minutes Serves: 4-6 Adults
Ingredients
1 lb of Gnocchetti Sardi or other short pasta like Cavatappi or Radiatori
2 bunches of Kale, Swiss Chard, Collard Greens or 1 head of Puntarelle- sliced into thin ½ inch strips (about 3 cups of greens)
2 tbsp of Olive Oil
1 medium Yellow Onion or 3 small shallots, diced
2 cloves of Garlic, minced
½ cup of Pancetta or 8 slices of thick cut Bacon, diced (optional)
1/2 stick (2oz) of Butter
2 tsp of Chili Flake, plus more for garnishment
¾ cup of White Wine
1/2 cup of Sour Cream
¼ cup of Black Olives or Capers, pitted and chopped
2 springs oregano, chopped
2 large sprigs of basil, sliced
1 bunch of Chives, sliced
2 Lemons, zest and juice reserved
Parmigiano Reggiano, for finishing
1/4 cup Breadcrumbs (optional)
1 tsp of dried or fresh Italian herbs (oregano, thyme, rosemary)
Method
In a small bowl mix breadcrumbs, dried Italian herbs, and the zest of 2 lemons. Set aside.
Cook the pasta of choice according to the directions given by the Pastaio. Reserve 2 cups of pasta water before draining the pasta. Toss the pasta with 2 tsp of olive oil and set aside on a sheet tray to cool.
If adding pancetta / bacon, heat a large saute pan over medium heat with 2 tbsp of olive oil and add the diced pancetta / bacon. Render until crispy and save the rendered pork fat. Drain the crispy pancetta on a paper towel and set aside.
Melt the butter or use the remaining pancetta fat over a medium-low heat. Add the onions and sweat until translucent, stirring occasionally, for about 5 minutes. Add garlic and sweat for 2 minutes, making sure to keep the heat low enough that the onions and garlic do not brown. Reduce heat if necessary.
Add the greens and chili flakes and increase the heat to medium. Stirring frequently, saute the greens until they become tender, about 8 minutes. Add pancetta and black olives / capers to the pan.
On medium- low heat, add the white wine and reduce until the pan is almost dry, about 4-6 minutes.
Over medium heat, add ¾ a cup of pasta water to the pan Reduce to a simmer and add cooked Cavatappi. Cook on a low simmer until sauce thickens and begins coating the pasta. Remove from heat and stir in the sour cream, chopped herbs, the juice of 1 lemon and salt to taste.
Top with herbed breadcrumb mixture and grated Parmigiano Reggiano. Buon Appetito!
Recipe Notes:
Suggested Wine Pairing: For a spicy, earthy and bright pasta like this one, we look to northern Piemonte in the hills of Roero to the grape Arneis.
This traditional white grape was historically planted next to the regions famous Nebbiolo grapes in order to protect it from the birds. Arneis is a very fragrant grape which distracted the birds from the highly prized Nebbiolo grapes. But that is no reason to write off Arneis wines. Meaning "little rascal" Arneis is a very versatile and delicious grape. Arneis typically is a dry, light to medium body white wine with moderate to high acidity.
We love this dish with the Roero Arneis DOCG Bricco delle Ciliegie from Giovanni Almondo and hope you will too. Find out more about Giovanni and his family wines here