Spring Ciabatta Panini
This panini is our spring picnic go to. Eaten warm or cold, there's no better lunch than this panini with some pasta salad. We made this recipe with roasted broccoli but it is easily modifiable to any season. Replace the roasted broccolini with roasted eggplant or tomatoes for a summer take!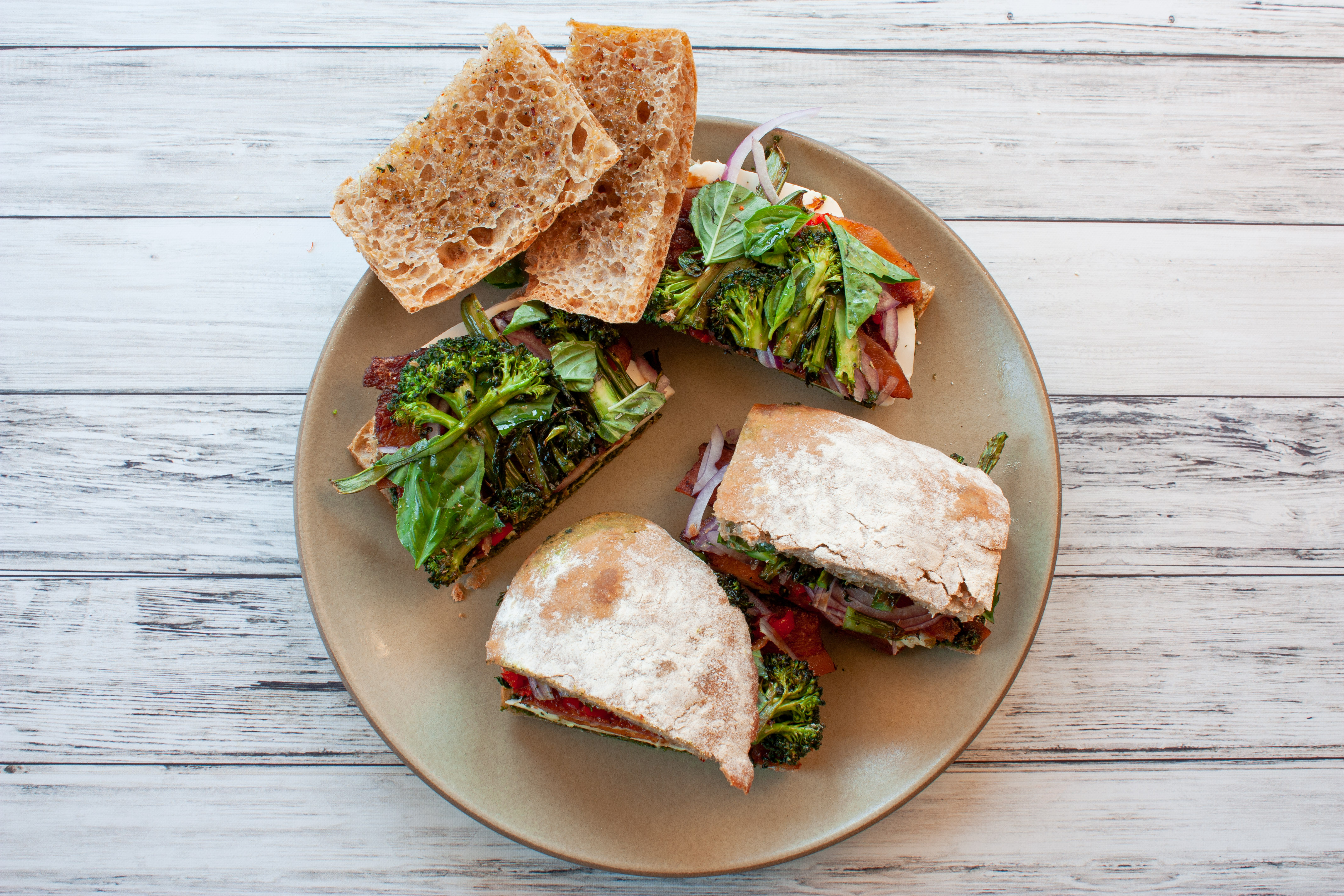 Ready to serve in: 15 minutes Serves: 4 sandwiches
Ingredients
1 loaf Ciabatta
8 oz Garlic Scape & Dill Maro' or Pesto
8 oz Mozzarella or Sharp Cheddar Cheese, sliced thick
16 strips of thick cut Bacon or Pancetta
4 large leafs of Spring Head Lettuce (like red oak or spring mix)
1/2 bunch of Basil, torn
1/4 Red Onion, sliced
1 bunch of Broccolini or Broccoli Raab
4 small pickled Hot Peppers (like cherry bombs), optional
1/4 cup extra virgin Olive Oil
1 tsp Profumo del Vermont spice mix, split use
Method
Pre-heat the oven to 375*F. Place sliced bacon on a lined sheet tray and roast until crispy, about 12 minutes. Drain on a paper towel, reserve bacon fat for your broccolini.
Cut your broccoli into long thin strips about an inch long and 1/2 inch thick. Place on the sheet tray with the bacon fat and toss with 1/2 tsp of Profumo del Vermont. Roast at 375*F until tender, about 6-10 minutes.
Slice red onions, mozzarella and peppers, set aside.
Clean lettuce and basil. Dry well.
Toast your ciabatta. Cut ciabatta in half and place on a lined sheet tray. Drizzle ciabatta with olive oil and the remaining Profumo del Vermont. Toast at 425*F until lightly golden.
Build your sandwich. Spread maro' thickly on one side of the ciabatta. Layer bacon, mozzarella, broccolini, red onion, and hot peppers. If you desire a melty sando don't add the basil or lettuce yet, pop the top on and place in the oven until the mozzarella is melted. Then remove top and add basil and lettuce.
Buon appetito!
Recipe Notes:
Looking for the perfect side dish? Did you try our Pasta Fredda of the week?