Thanksgiving Focaccia Stuffing
While we originally wrote this recipe for thanksgiving, this stuffing is good all year round. In the spring we substitute the sage for oregano, the parsley for dill and the celeriac/ winter squash for peas and add a little extra lemon zest and sometimes some feta too. In the Summer we replace the sage with zhug spice and switch the celeriac/ winter squash for carrots and add 2 tbsp of harissa paste to the broth! It is such a versatile stuffing recipe, have fun with it!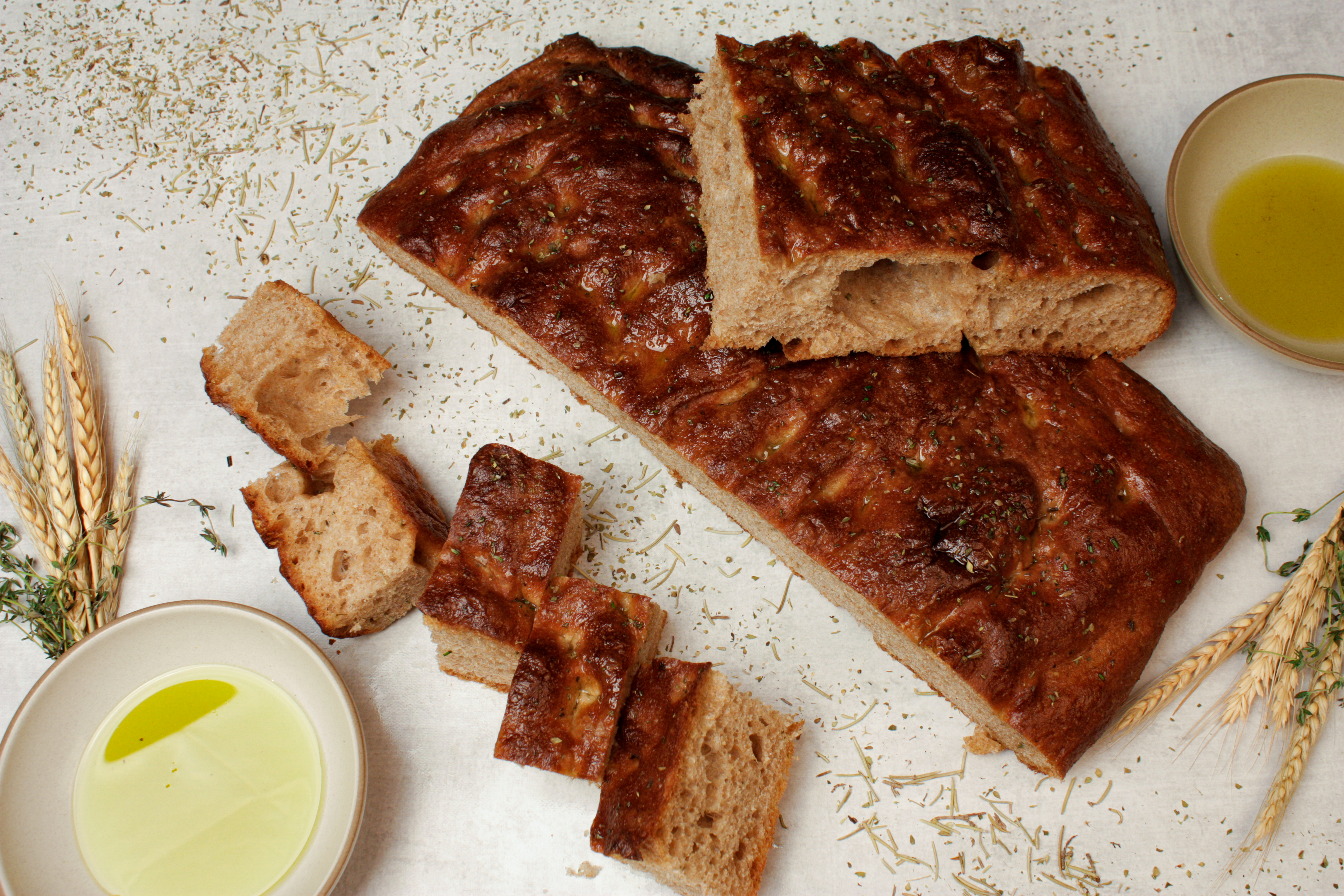 Ready to serve in: 1 hour and 15 minutes Active time: 35 minutes Serves: 6-8 Adults as a Side Dish
Ingredients
1 lb of focaccia or ½ loaf of crusty bread
1 lb of Italian Sausage (casing removed)
¼ cup of olive oil
2 tbsp vegetable oil
1 head of Fennel
1 pound of Celeriac or Winter Squash
2 large Yellow Onions or Leeks
4 cloves Garlic
¾ cup White Wine
3 cups Broth (Parmesan broth, Vegetable broth, or Poultry broth)
2 eggs
2 tbsp Balsamic Vinegar
2 sprigs of Rosemary, chopped finely
½ bunch of Oregano, chopped finely
2 tsp of Sage, dried prefered
1 bunch of Parsley, finely chopped
Salt
Chili Flake, optional
Method
Preheat the oven to 350*F. Cube the focaccia into ½ in cubes. Spread them in 1 layer on a baking sheet and toast in the oven until golden brown and very crisp, about 35 minutes. Allow to cool. This can be done up to 2 day ahead of time, just store in an airtight container and if the focaccia cubes soften, re-crisp them in the oven before using)
Dice the onion (or leek, if using leeks we prefer to keep them into rings or semi circles), fennel, and garlic. This can be done 1 day ahead of time.
Dice the celeriac or winter squash into ½ in cubes. Toss in 2 tbsp of olive oil and sprinkle with salt (about 2 tsp) and 1 tsp of dried sage. Roast at 425*F until al dente, about 12 minutes. Allow to cool.
In a large stock pot, add 2 tbsp of vegetable oil and turn the heat onto high. Brown the sausage, about 8 minutes. Turn off the heat and remove the sausage from the pot, keeping the fat and oil in the pot.
Turn the heat to medium-low. Saute the onions, fennel and garlic until translucent but no color, about 7 minutes.
Add white wine and stir well to remove any of the browned bits on the bottom of the pot, if any. Cook over medium heat until evaporated.
Place the toasted focaccia in a large bowl. Drizzle 3 tbsp of olive oil over the focaccia. Then pour the sauted onions, garlic and fennel over the focaccia. Add the sausage and roasted celeriac or squash. Toss well.
Chop herbs and mix into the focaccia mixture. Taste and season with salt and chili flake.
In a medium bowl whisk together the broth, balsamic vinegar and eggs until smooth.
Pour the broth mixture into the focaccia bowl and fold gently into the focaccia mixture.
Place into a 9x9 baking dish. This can be made 1 or 2 days ahead of time covered in foil. Just keep refrigerated.
Bake the stuffing covered in foil at 350*F for about 35 minutes or until you can see some bubbles along the side.
Increase the oven temperature to 425*F and remove the foil. Bake an additional 25 minutes until golden brown.
Recipe Notes:
This is the perfect side dish (fair warning it may steal the show) for any roast meat! You can use any bread (focaccia is our favorite) but make sure it is a heartier style loaf (Ciabatta, Sourdough, Challah ect).
You can also eat this on its own for breakfast. Add a fried egg or even cut a slice and sear it "savory french toast" style!