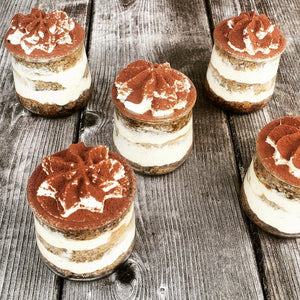 Available in individual 12 oz (1-2 adults)  Gluten Free
Layers of our house made gluten free vanilla bean Sponge Cake is generously soaked with organic Cloud Forest Ecuadorian Coffee. The sponge is layered with a wild Amazonian vanilla bean whipped into Vermont Creamery's mascarpone cheese. Topped with organic cacao powder, this gluten free take on the classic tiramisu is hard to share. 
*Contains: Dairy, Eggs
Try some of our favorite pairings!