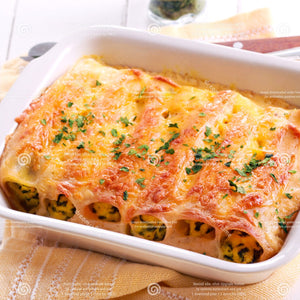 8 Cannelloni per container. Serves about 2. Frozen
 This cannelloni channels early fall in Emilia! Hervacious ricotta cheese is whipped with farm herbs and Parmigiano Reggiano 28 month riserva cheese fills 8 tender tubes of our signature sfoglia. Smothered in a rich besciamella made with Sweet Rowen Farmstead milk, farm garlic as well as pieces of Perrin Farms pancetta. Fresh farm tomatoes are studded through the sauce with herbs and a dusting Parmigiano Reggiano make this take & bake ready to pop in your oven and bake for an easy dinner!
Contains: Wheat, Dairy, Eggs
Try some of our favorite pairings!