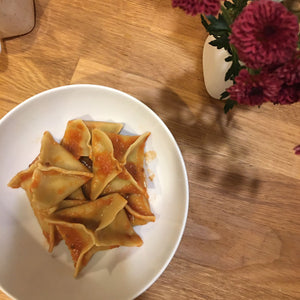 Sold in 12 oz portions. 12 oz of filled pasta serves 2-3 adults.

Our silky Vermont wheat & farm egg sfoglia dough is stuffed with Wild Side of Vermont Hen of the Woods mushrooms that we roasted to perfection and whipped into Maple Brook ricotta cheese and farm grown sage.  These special mushroom tortelloni are perfect with fresh summer tomato sauces, cream sauces or pesto!
Transport yourself to the hills of Italy with this delicious filled pasta!   
Contains: Wheat, Eggs, Dairy (Ricotta)
Try some of our favorite pairings!