Sold by the Pound. Served 4-6
We all know that the Italians love their cars and this shape brings the Italian love of cars and pasta together. Created in the 1960s this shape is said to be inspired by the radiator grill of the Bugatti car! 
This was Jenny's childhood favorite shape and we are excited to be able to offer it. Thie week' version is the color of the Italian flag white, green & red. Made with pasture raised eggs and our signature flour blend. We love this shape with pestos and in pasta salads. We have a recipe for a pasta salad that is great both warm or cold that was our most popular pasta salad last year at the farmers market. 
Ingredients: NEK Grains Warthog Flour, Ruby Lee 00 Flour, Farm Eggs, Kale & Spinach Puree (organic spinach powder,farm basil, farm kale), Tomato Puree (organic tomato paste, organic tomato powder).
Try some of our favorite pairings!
Grilled Corn "Elote" Radiatori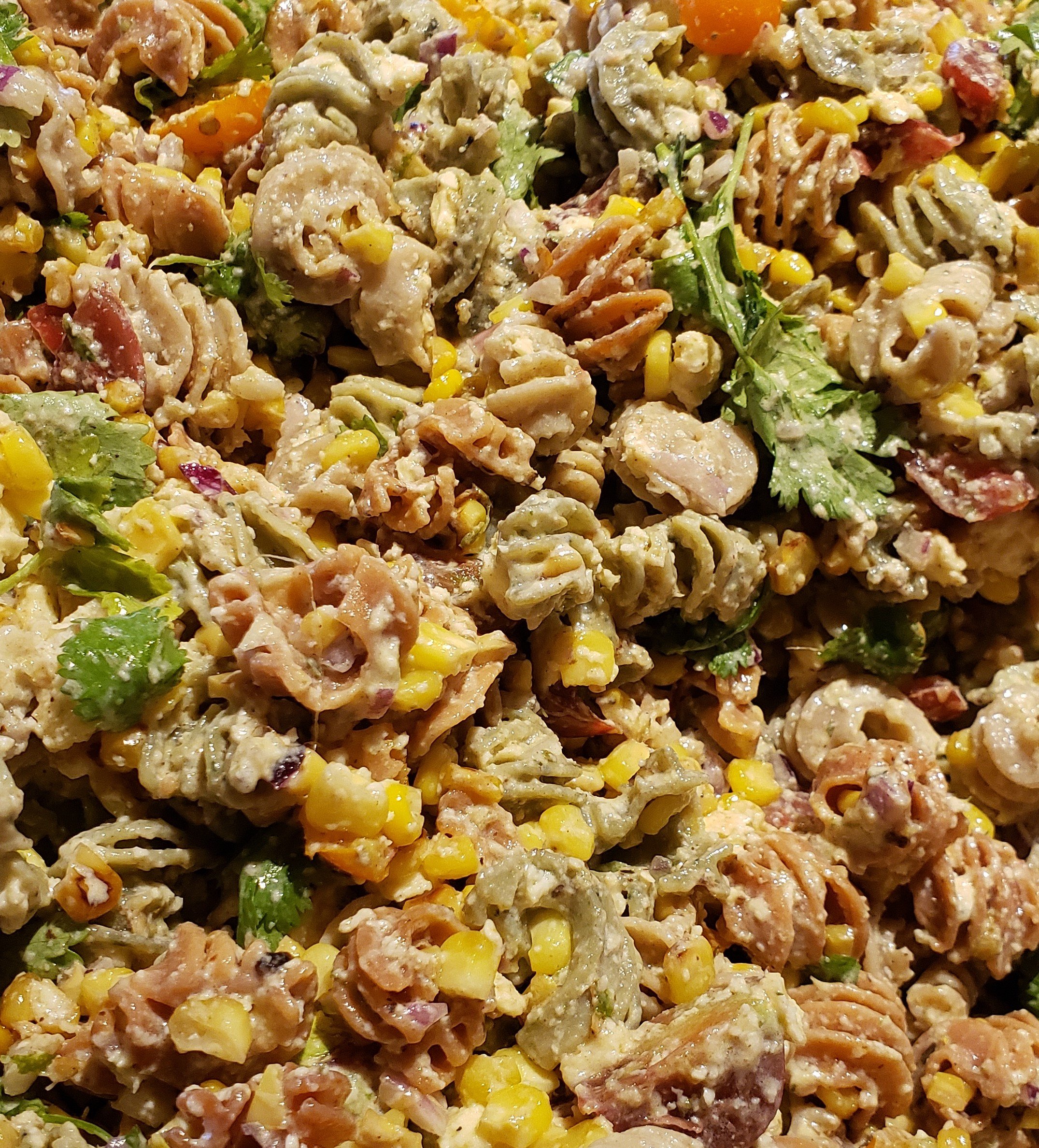 Is there anything better than summer sweet corn? Grill it, coat it in cumin and chilies and top it with salty cheese. This dish is our ode to this classic Mexican street corn. You can easily omit the chorizo to keep it vegetarian. Eat it hot or serve it cold both ways are delicious. At our house we always make enough to enjoy it both ways because why choose.
The Creamy Salsa Verde sauce recipe is delicious on its own also. Make it without folding in the sour cream to keep it nice and green if you want to make it a couple days ahead of time. It also freezes well so making a larger batch is what we usually do.
Ready to serve in: 45 minutes Active time: 35 minutes Serves: 4 Adults
Ingredients
1 pound of Radiatori Pasta
1 Red Onion, diced small
1 bunch of Cilantro, chopped
1 pint of Cherry Tomatoes, halved
4 ears of Sweet Corn, Shucked
1 cup of Creamy Salsa Verde Sauce
6 oz Feta Cheese, Queso Fresco or Cotija Cheese, Crumbled
2 links or 4 oz of Chorizo, casing removed
1/2 bunch of Scallions
Creamy Salsa Verde Sauce:
1 pound of Tomatillo (or green tomatoes)
1 bunch of Cilantro
1/2 Red Onion
1 tsp of Cumin, ground
3 Jalapenos, (we like it spicy so feel free to use less)
2 cloves Garlic
1 cup of Sour Cream, or Greek style Yogurt
Method
Recipe Notes:
Don't want to grill the corn? Simply cut the kernels from the cob and sear them in 2 tbsp of vegetable oil over high heat. Sear them until golden brown, we prefer to do this in a cast iron to mimic the grill flavor.
Suggested Wine Pairing: