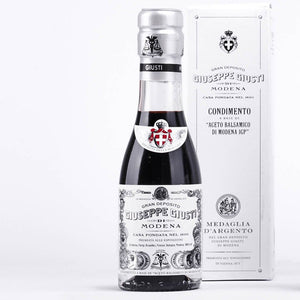 This special vinegar is made by the oldest balsamic maker in the world Giuseppe Giusti. Characterized by a rich perfume and an agreeable and rounded balsamic acidity, the "Medaglia d'Argento" is an aromatic balsamic vinegar which, with its intensity, enhances the flavors of any dish. This Balsamic Vinegar can be used fresh or can be heated in cooking preparations.
This vinegar is our favorite work horse balsamic. We use this vinegar as a seasoning agent for its sharp and balanced acidity and thinner viscosity. Our signature Parmesan Brodo is seasoned with this vinegar. We also braised meats as well as roast vegetables in this vinegar. This is our favorite vinegar to use when adding heat and cooking. 

Ingredients:
Must of cooked grapes, aged wine vinegar

Aging:
In French oak barrels, from the 1900s with the addition of aged balsamic vinegar extracted from centuries old casks

Balsamic Vinegar of Modena PGI
Try some of our favorite pairings!
Brasato al Vino Rosso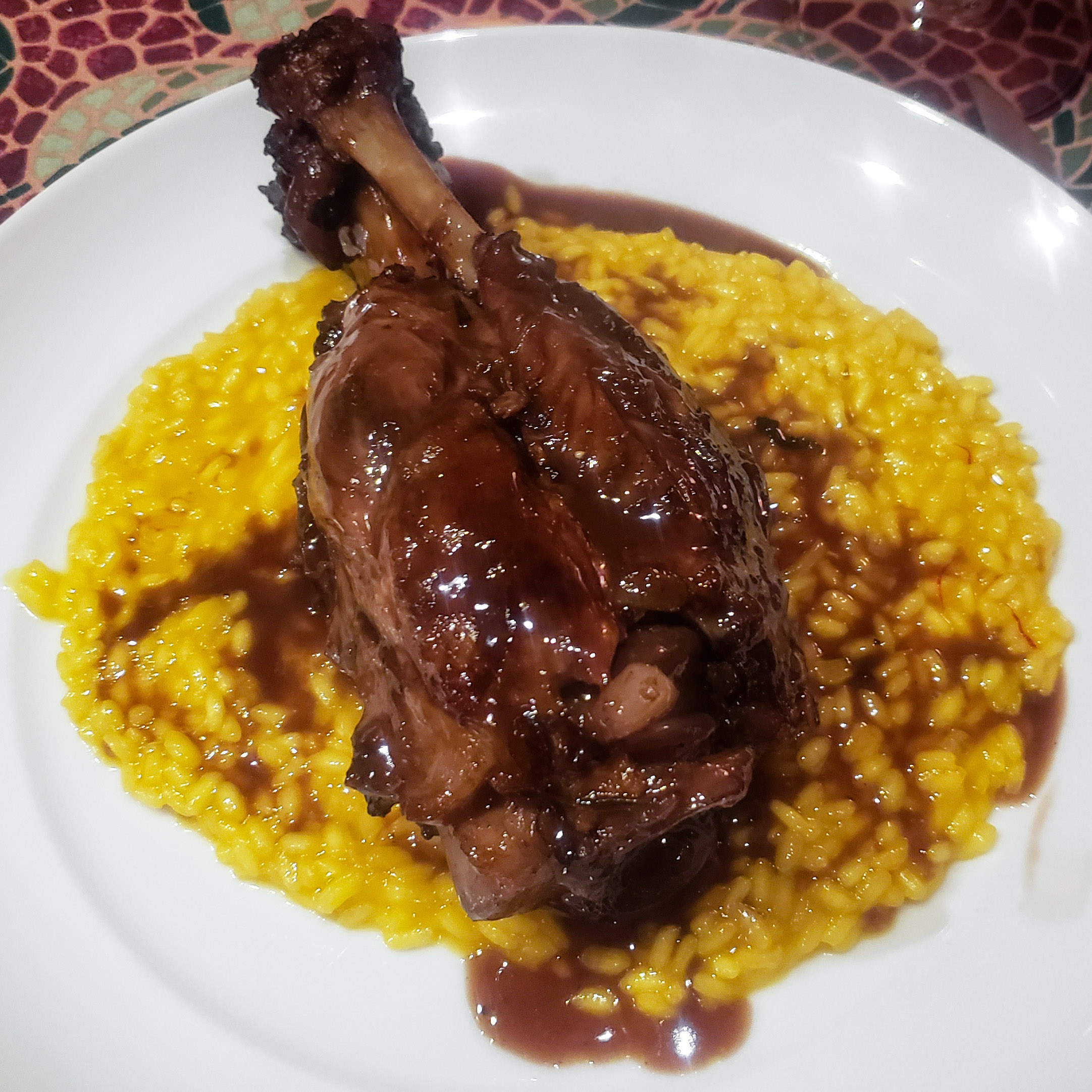 Red Wine Braised Beef is a simple "set it and forget it" kind of meal. We love to serve this with polenta and our Cipollini in agrodolce. This recipe is also great with Lamb or Pork. Shred any leftover meat into some sauce and toss it with pasta for a primi al ragu' the next day!
Ready to serve in: 4 hours Active time: 45 minutes Serves: 4-6 Adults
Ingredients
2 lbs Beef, Pork or Lamb for braising - Shanks (in the picture), Brisket, Shoulder Clod or ask your butcher for their favorite
1 bottle - 750 ml of Dry Red wine (if you wouldn't enjoy drinking a glass of this wine you probably shouldn't cook with it: our favorite cooking red wines are the Bota Box wines available at most coops or stores).
2 tbsp Vegetable oil
Salt
Pepper
1 sprig of Rosemary
4 sprigs of Thyme
8 oz Cipolline in Agrodolce to serve
Parmesan Polenta or Saffron Risotto to serve (recipes coming soon)
Method
Season the meat generously with salt and pepper on all sides. Allow to sit at room temperature for at least 20 minutes (this can also be done the night before).
Choose a casserole or cast iron pot where the meat barely fits in one layer. Preheat the oven to 300*F.
In a cast iron or heavy oven safe casserole dish add the vegetable oil. Allow the oil to get hot over medium high heat. Sear all sides of the meat until golden brown, working in batches if necessary to not crowd the pan, about 5-7 minutes per side. Remove the meat from the casserole and set aside.
Drain off the excess oil and turn the heat to medium-low. Deglaze the pot with the red wine, scrapping all of the tasty bits stuck to the sides with a wooden spoon. Bring to medium heat and allow the red wine to reduce by 1/3, for about 10 minutes. The wine should no longer smell alcoholic but more fruity and jammy. If it is burning your nose reduce it a little further.
Nestle the meat back into the pot. Add the rosemary and thyme. Top off with enough water to just cover the meat: you may need to weigh it down to do this. Place a piece of parchment on top and then an oven safe plate to keep it submerged. Cover the casserole with a lid or foil.
Braise the meat in the oven until fork tender, this will vary greatly depending on the cut and your oven but it will average 2.5-3.5 hours.
Once fork tender, remove the meat from the cooking liquid, gently tear/split it into chunks and place the liquid back on the stove. Reduce the liquid until it coats the back of a spoon, for about 15 minutes. Season with salt and sherry or balsamic vinegar. Place the meat back into the thicken liquid and glaze it.
Serve over polenta and with Cipolline in agrodolce! Buon Appetito
Recipe Notes:
Suggested Wine Pairing: Nebbiolo is our favorite grape with this dish but any full bodied, medium to high tannic wine with a good acidity is the game. Paolo Manzone makes delicious Barolo wines full of rich jammy red and black fruits, floral and fragrant rose character as well as a balsamic spice note that we think pair beautifully with this dish. Other wines we love are Nebbiolos from Valtelina Superiore, Sangiovese from Brunello di Montalcino or a Valpolicella wine from Veneto.