This special vinegar is made by the oldest balsamic maker in the world Giuseppe Giusti. The ultimate pride and expression of the art of Giusti vinegars, the "Banda Rossa" was the personal gift from Uncle Giuseppe to family members.
This Balsamic is of robust body and concentration. With notes of plum, black cherries and sweet spices, infused with the fragrances of ancient woods in which it was left to age, the taste is long lasting.

We love this vinegar for a finishing vinegar. Drizzle over a pasta, risotto, a cheese plate with hard cheeses or even dessert! Our favorite is with a Caprese salad, see our recipe below. This thick viscosity vinegar is a show stopping way to finish any dish.
Balsamic Vinegar of Modena PGI
Try some of our favorite pairings!
Heirloom Tomato Caprese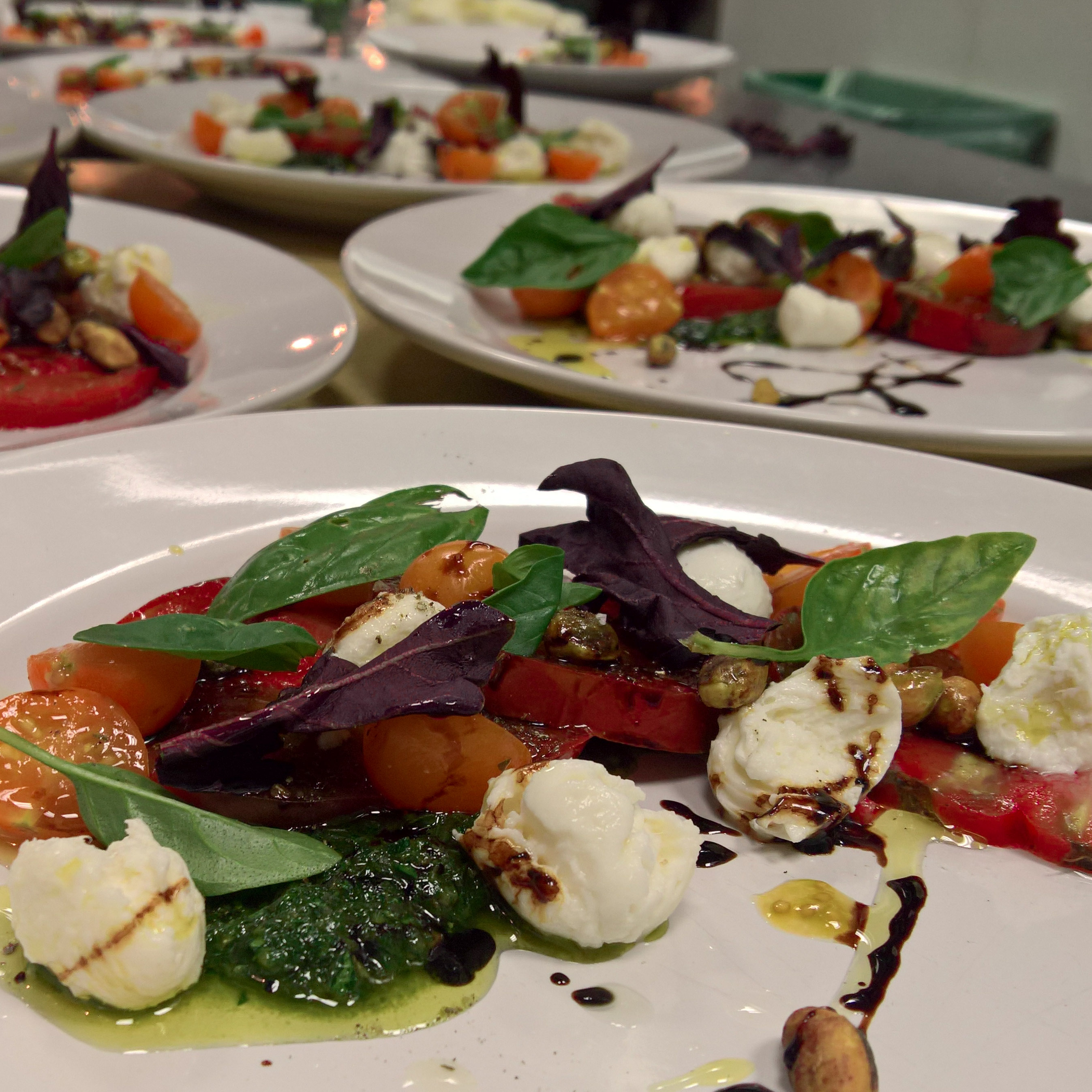 This is a dish is all about the ingredients. Thats why the Giuseppe Giusti "Banda Rossa" is our favorite.
Look for tomatoes that are fragrant, firm with a tenderness when gently handed. Check your olive oil for a harvest date most olive oil is good for only 1-2 years. Brightland has great transparent olive oils.
Can't find good quality mozzarella (Maple Brook Creamery our local favorite, or try Swet Rowen's cheese curds), we like this dish with a twist. We will add local berries or stone fruit and switch the mozzarella for a good blue cheese (Try Mt. Mansfield Creamery's Patrolman Blue!
Ingredients
8 ea mixed large Heirloom Tomatoes
1 pint mixed Cherry Tomatoes
8 oz Burrata, torn
8 oz Mozzarella di Bufala
¼ c toasted Pistachios or Walnuts
½ c Extra Virgin Olive Oil
3 tbsp Aceto Balsamico* (Balsamic Vinegar)
3 tbsp/ 1/2 bunch of Chives, chopped
2 tsp/ 2 sprigs Oregano, chopped
4 tbsp/ 4 sprigs of Genovese Basil, torn
2 tbsp/ Purple Ruffle Basil, torn
2 cloves of Garlic, grated finely
3 tbsp Sherry or Red Wine Vinegar
1/4 c of Broccoli, Garlic Scape or Basil Pesto, optional
2 tsp Crunchy Sea Salt, we like Maldon sea salt
1 tsp (to taste) Kosher Salt
1/2 tsp Freshly Ground Black Pepper
Method
Toss cherry tomatoes with 1 Tbsp. EV oil, 1 tsp oregano, 2 heads of garlic, finely chopped or grated on a microplane and 1 tbsp of red wine vinegar in a small bowl; season with salt. Mix ¼ c olive oil with remaining vinegar, oregano, 4 basil leaves finely chopped, chopped garlic, and season with salt. Set Aside.
Toast nuts at 350* until light golden. Coarsely chop and set aside.
Dress the large slices of tomatoes with the dressing and a spinkle of sea salt. Allow to marinate for 10 minutes.
Spread pesto along the plate or platter before arranging tomato slices, slightly overlapping; season by drizzling tomatoes with set aside vinaigrette and generously top with maldon salt.
Arrange burrata and mozzarella over tomatoes; lightly season mozzarella with maldon salt. Spoon cherry tomatoes over salad and drizzle with 4 Tbsp. oil; season with pepper.
Top salad with basil and additional sea salt and oil, if desired. Sprinkle toasted nuts.
Recipe Notes:
Turn this recipe into a bruschetta: Slice your large heirlooms into logs and use this as the perfect bruschetta topping with our toasted broccoli pesto and cheese curd focacccia!
Suggested Wine Pairing: Think crisp whites, bubbles and rose with this dish! Here are our 2 favorite bottles of the summer: Clos Cibonne Cote de Provance. Cru Classe Rose. or Cleto Chiarli Lambrusco di Sorbara Vecchia Modena 2019