Sold in 8 oz. Frozen, Vegan
Maro' is the forgotten sauce of the Italian Riviera. This sauce's name comes from western Ligurian dialect meaning seasoning. This dish can trace its history back as the 10th Century! This traditionally vegan, chunky style sauce highlights spring in the NEK.
A maro' can be used in a number of ways and it always signifies the arrival of spring. Spread on a crostini to make a bruschetta, served with roasted or boiled red meats or twirled with your favorite pasta shape.
This chunky condiment highlights locally grown Fennel and bright farm herbs. This once a year chunky sauce featured roasted fennel blended with spicy organic olive oil, farm grown tarragon, parsley and chives, and lots of lemon and a touch of single origin silk chilis make this Maro' your new favorite sauce! 
Ingredients: Fennel, Oregano, Organic Olive Oil, Lemon, Chives, Parsley, Scallions, Salt,  Chili Flake, Apple Balsamic Vinegar
Try some of our favorite pairings!
Ultimate Spring Ciabatta Panini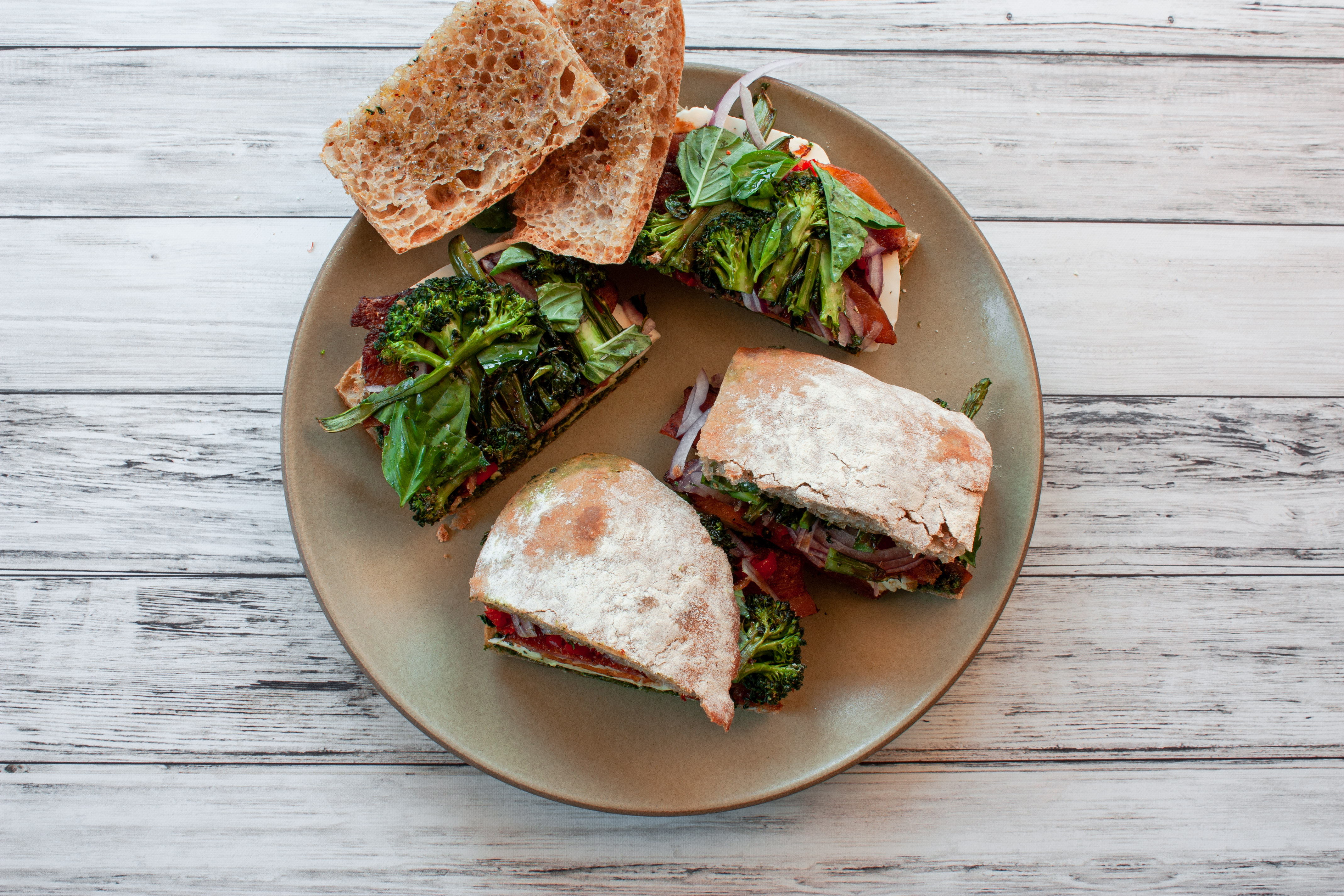 Ready to serve in: 15 minutes Serves: 4 Sandwhiches
Ingredients
1 loaf Ciabatta
8 oz Garlic Scape & Dill Maro' or Broccoli Pesto
8 oz Mozzarella or Sharp Cheddar Cheese, sliced thick
16 strips of thick cut Bacon or Pancetta
4 large leafs of Spring Head Lettuce (like red oak or spring mix)
1/2 bunch of Basil, torn
1/4 Red Onion, sliced
1 bunch of Broccolini or Broccoli Raab
4 small pickled Hot Peppers (like cherry bombs), optional
1/4 cup extra virgin Olive Oil
1 tsp Profumo del Vermont spice mix, split use
Method
Pre-heat the oven to 375*F. Place sliced bacon on a lined sheet tray and roast until crispy, about 12 minutes. Drain on a paper towel, reserve bacon fat for your broccolini.
Cut your broccoli into long thin strips about an inch long and 1/2 inch thick. Place on the sheet tray with the bacon fat and toss with 1/2 tsp of Profumo del Vermont. Roast at 375*F until tender, about 6-10 minutes.
Slice red onions, mozzarella and peppers, set aside.
Clean lettuce and basil. Dry well.
Toast your ciabatta. Cut ciabatta in half and place on a lined sheet tray. Drizzle ciabatta with olive oil and the remaining Profumo del Vermont. Toast at 425*F until lightly golden.
Build your sandwich. Spread maro' thickly on one side of the ciabatta. Layer bacon, mozzarella, broccolini, red onion, and hot peppers. If you desire a melty sando don't add the basil or lettuce yet, pop the top on and place in the oven until the mozzarella is melted. Then remove top and add basil and lettuce.
Buon appetito!
Recipe Notes:
Looking for the perfect side dish? Did you try our Pasta Fredda of the week?