Sold by the 13.7 oz  4 nests which serves about 4 
Our signature blend of 100% Vermont grown wheat and rich farm eggs are used to create these delicious thick chewy Bigoli noodles, perfect for catching all the sauce. 
Bigoli is the thick cousin of spaghettini. 4mm in diameter, these chewy noodles are tradiational of Veneto and Mantua (Lombardia). This is the original "farmers noodle" where it was traditional eaten on meatless holidays like Christmas eve or during Lent. Now adays it is seen all year round. Traditional dishes with bigoli include duck ragu or simple dishes like anchovies, EVOO, garlic & breadcrumbs. 
Ingredients:
100% Vermont grown wheat flours
, Farm Eggs 
Try some of our favorite pairings!
Spicy Peanut Noodle Salad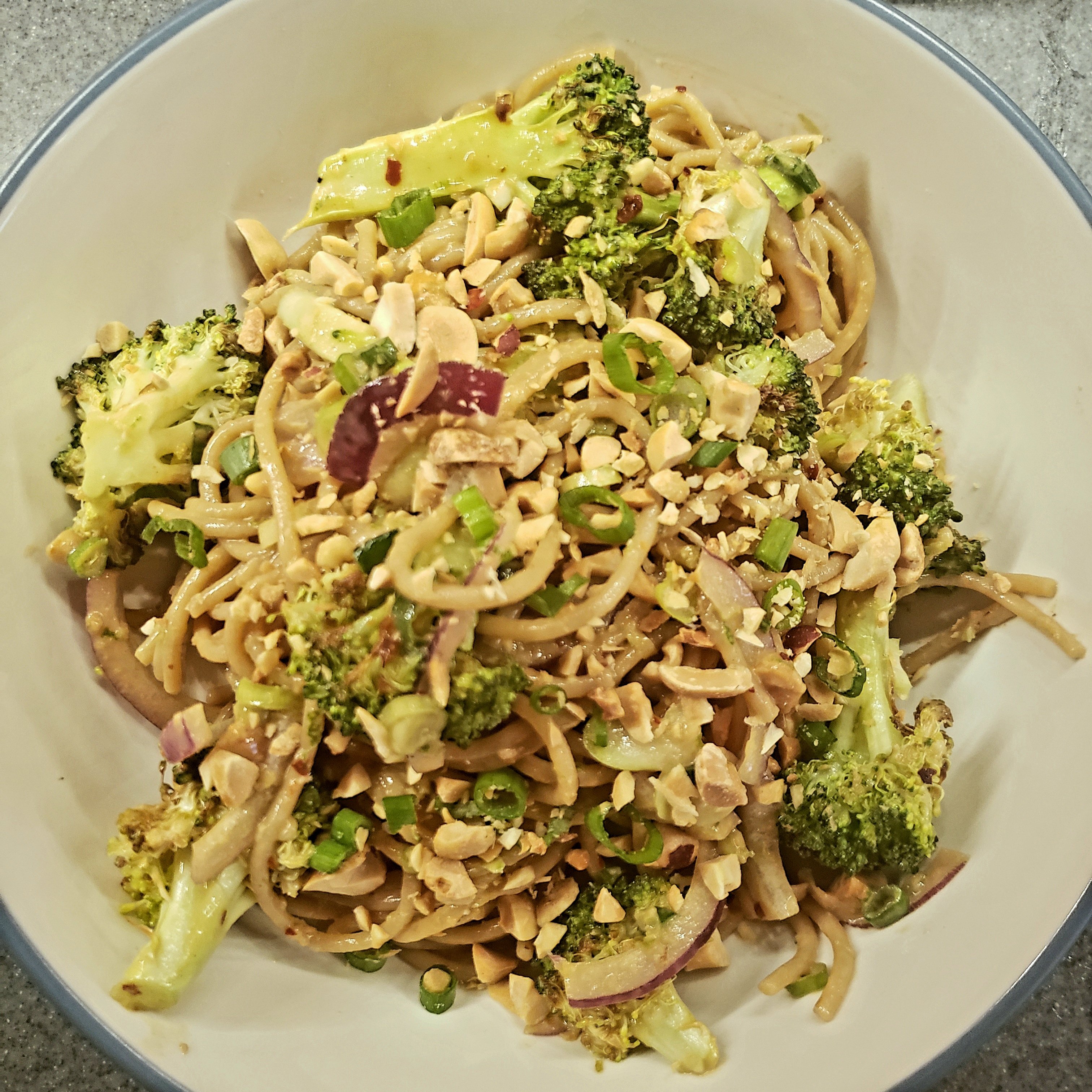 This is a recipe we can never seem to make enough of. This is the perfect for a summer lunch or dinner. It is also the talk of every picnic or barbeque we've ever brought it to. We love packing this recipe with whatever seasonal vegetables are on hand. The recipe use roasted broccoli but these can be substitutes for zucchini, snap peas, bok choy, tomatoes or a combination of any of these. There are not wrong answers with vegetable substitutions!
The peanut sauce can also be made in larger quantities to be used as a salad dressing, a dipping sauces for grilled meats or to make this recipe even easier next time! This recipe is a medium spicy dish but you can increase or decrease the chili and spice amounts to customize it to your preference.
Ready to serve in: 20 minutes Active time: 20 minutes Serves: 4 Adults
Ingredients
1 pound of Angel Hair Pasta
Peanut Sauce, to taste
1 bunch of Scallions
1 head of Broccoli
1 tbsp of Vegetable Oil
Salt
1/2 Red Onion, sliced thin
2 Carrots, sliced thin or grated
1/4 cup of Peanuts, toasted
2 tsp of Sesame Oil or vegetable oil
Peanut Sauce:
1/3 cup of Peanut Butter
2 tbsp Rice Vinegar
1/3 cup of Soy Sauce, Tamari or Coconut Aminos
2 tsp of Sesame Oil
2 clv Garlic, grated to a paste
1 1/2 tbsp of Honey or Maple Syrup
1/2 inch of Ginger, grated
1 Serrano Chili, finely minced or grated
1 lime, zested plus 1/2 the lime juiced
a dash Fish Sauce, optional
Method
Preheat the oven to 350*F. Toast the peanuts until golden brown and fragrant, about 5-8 minutes.
Cut the head of broccoli into bite sized florets. Toss the florets in 1 tbsp of vegetable oil and 1 tsp of salt. Roast the broccoli until al dente, about 8-12 minutes. Remove from oven and allow to cool.
Fill a medium sauce pot 3/4 of the way with water. Bring to a boil and salt the water with enough salt to make the water taste salty but not quite like the sea. Cook the angel hair until al dente, following the pasta makers reecommendations. Drain from the water and toss with 2 tsp of sesame oil. Allow to cool.
Make the peanut sauce: In a medium sized bowl combine, peanut butter, sesame oil, rice vinegar, soy sauce, and honey. Using a mircoplane or the finest side of the box grater, grate ginger, garlic and serrano chilies. Mix into the peanut sauce. Add lime juice and zest, chili flakes, and additional soy to taste.
Slice the scallions, red onions and chop the peanuts. Slice the carrots either into very thin rings or grate the carrots on the largest side of the box grater.
In a large bowl toss the angel hair with the roasted broccoli, carrots, scallions, red onions, peanuts. Dress with 1/4 a cup of the peanut dressing and toss. Taste and add additional peanut dressing as desired.
Buon Appetito!
Recipe Notes:
The peanut sauce can be made a week ahead of time and will store in the fridge for up to 2 weeks. Taste it before dressing and add a sqeeze of lime and a dash of soy to brighten it back up! This pasta salad can be made 1-2 days ahead of time and stored in the fridge.
Suggested Wine Pairing: Our favorite place to eat this salad is with a picnic at the lake. The spicy and texture filled nature of this salad is perfect for a crispy bubbly sparking rose! Our favorite California winemaker is Caraccioli Cellars in the Santa Lucia Highlands of Carmel Valley, CA. Their wines are made following traditional Champagne methods and rigoroius standards. We can't get enough of their Brut Rose wine which is a blend of 60% Chardonnay and 40% Pinot Noir grapes. These gorgeously salmon and coppery pink wines have delicate, refined bubbles. With a crisp acidity and bright minerality they invoke flavors like a refreshing red fruit sorbet, mandarine orange zest, just ripe peaches, lime zest and the salty cool ocean breeze. We love this wine with this salad! Both will be gone too quickly, trust us. Learn more about Caraccioli Cellars!